MUNICH (AP) — Convicted of serving as a Nazi death-camp guard and in failing health at 91, John Demjanjuk still hopes he might be able to return home to Ohio, his son said after seeing his father face to face for the first time since his deportation in 2009.
In an interview with the Associated Press, John Demjanjuk Jr. said that if a court battle in Ohio results in his father being given permission by Germany to return home, he would do so even before his appeal in Germany is heard.
"Absolutely, immediately," Mr. Demjanjuk said after visiting with his father for four days at his nursing home in the Bavarian town of Bad Feilnbach. "We're Americans — Americans of Ukrainian heritage — and that's his home."
Demjanjuk was found guilty in May on 28,060 counts of accessory to murder after a Munich court found that evidence showed he was a guard during the war the Nazis' Sobibor death camp in occupied Poland.
The case was the first time someone was convicted in Germany on the basis only of having been a guard, without evidence of a specific killing.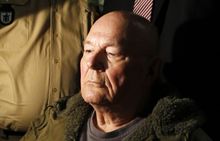 Ukrainian-born Demjanjuk was a Soviet Red Army soldier captured by the Germans in Crimea in 1942.
The Munich court found that he agreed to serve the Nazis as a guard at Sobibor. Demjanjuk consistently has rejected the allegation, insisting he never served as a guard anywhere and was held in German camps himself for much of World War II.
Demjanjuk was sentenced to five years in prison in Germany but released pending appeal, which could take another year or more.
In releasing Demjanjuk, the court put no restrictions on his travel, but he has no passport after being stripped of his U.S. citizenship ahead of his deportation to Germany in 2009.
But his family is fighting in the U.S. They argue that the U.S. government failed to disclose important evidence; namely, a 1985 secret FBI report uncovered by the AP. That report indicates the FBI believed that a Nazi ID card purportedly showing that Demjanjuk served as a death-camp guard was a Soviet-made fake.
The family is attempting to reopen his U.S. citizenship case and hope that even before there is a decision, the court will order that Demjanjuk be allowed back into the U.S.
That may seem unlikely, but it already has happened once before in the approximately 35-year saga of Demjanjuk's legal battles.
In the 1980s, Demjanjuk stood trial in Israel accused of being the notoriously brutal guard "Ivan the Terrible" at the Treblinka extermination camp. He was convicted, sentenced to death — then freed when the Israeli Supreme Court overturned the ruling, saying the evidence showed he was the victim of mistaken identity.
He then was allowed back into the U.S., and in a 1993 review of the American denaturalization hearing that led to his extradition, a federal U.S. appeals panel concluded that the Department of Justice's Office of Special Investigations engaged in "prosecutorial misconduct that seriously misled the court."
The younger Mr. Demjanjuk said the family is now "very confident that we're going to achieve a hearing before the federal district court in Cleveland" and also that his father's conviction in Germany will be overturned.