Democrats are digging in their heels over a recently suspended part of President Obama's health care law, saying they want to fix the flailing long-term care program instead of repealing it, as Republicans have proposed.
In a hearing Wednesday on the CLASS Act lasting nearly four hours, members of the House Energy and Commerce Committee grilled administration officials about the program's sustainability and its uncertain future. Health and Human Services Department Secretary Kathleen Sebelius shelved the program earlier this month, saying she couldn't find a way to make it pay for itself. The Democrats had said it would during the debate on the health care bill.
A pet project of the late Sen. Edward M. Kennedy, the voluntary program aims to provide affordable long-term care for the elderly but, like all insurance programs, it depends on having enough healthy people sign up earlier in life. Following the lead of Mr. Obama - who opposes repealing CLASS - Democrats indicated they aren't ready to discard it just because Mrs. Sebelius suspended it.
"I find that disappointing but until [Mrs. Sebelius] finds a path forward, the action she's taking is the responsible thing to do fiscally and otherwise," said ranking member Rep. Henry A. Waxman, California Democrat. "But calling for a time out is not the equivalent of throwing in the towel, as Republicans would have the public believe."
"I personally and many of us do not agree with your decision to put this on hold," added Rep. Frank Pallone Jr., New Jersey Democrat. "I'm not trying to be difficult, but too many of us worked too hard on this and feel strongly that this can be implemented and we don't want to give up."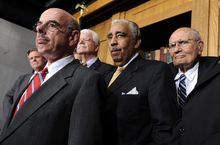 Meanwhile, officials have effectively shut down the office to implement CLASS, saying they can't meet requirements to show it is self-sustaining for 75 years. Kathy Greenlee, assistant secretary for aging at HHS, said the hope now is to engage "stakeholders of all types" in broad discussions.
But Mr. Pallone expressed doubt in that plan, pointing instead to a mandate in the Affordable Care Act that calls for an independent panel to advise on putting CLASS into effect. While the panel was never assembled, he said it could help the administration find a solution.
"I don't think it's going to be very effective engaging everyone based on what you've said today," Mr. Pallone told Ms. Greenlee. "I really would urge the administration to move forward with naming the members of this panel and use this panel as a way to move forward."
In the course of the hearing, Ms. Greenlee said the administration spent $5 million analyzing CLASS before concluding it was untenable - drawing criticism from Sen. John Thune, a South Dakota Republican leading the repeal effort in the Senate. The Congressional Budget Office has removed an obstacle to repeal, announcing that in budget calculations it will ignore $83 billion in projected revenue from the program.
"After repeated warnings from budget experts and congressional Republicans, HHS still spent nearly $5 million of taxpayers' hard-earned money to implement a program it now says has no 'viable path forward,' " Mr. Thune said.
Republicans also grilled Ms. Greenlee and Sherry Glied, assistant secretary for planning and evaluation on when they knew CLASS was untenable. Reports have shown that officials knew CLASS wasn't viable shortly after the health care law was passed 18 months ago.
"Why did it take until 11 months after the Affordable Care Act passed for the secretary to publicly acknowledge that there were flaws with CLASS?" asked Rep. Joseph R. Pitts, Pennsylvania Republican.
"What the department began to do immediately after the law was passed was further development of models that truly modeled the law as it was presented," Ms. Greenlee said. "It took some time for us to put those models together."