The suspects initially described by Brittany Norwood as the attackers in the Lululemon Athletica store slaying were just too malicious to be believable, a Montgomery County Police detective testified Monday in court about the first time he started doubting the defendant's story.
"It was like a movie. You may find one guy who is that evil, but two guys? That is rare," said Detective Dimitry Ruvin, recounting the elaborate cover-up story Ms. Norwood provided police. "We are dealing with, and these were my words, 'two crazy Columbine-type kids or this is not real.'"
The first-degree murder trial entered its second week Monday with testimony from police and DNA and blood-spatter experts.
Ms. Norwood is accused of brutally slaying co-worker Jayna Murray, 30, during a fight inside the Bethesda Row store where they worked, then doctoring the crime scene to make it appear as though two men had sexually assaulted her and killed Murray.
Ms. Norwood's defense attorney has admitted his client killed Murray but denies the attack was planned.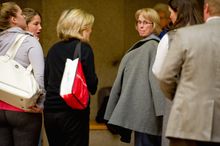 Prosecutors say the defendant lured Murray back to the store after closing with the intention of killing her.
Attorneys are preparing for closing arguments in the case Wednesday.
"When we were interviewing her, she seemed very credible," Detective Ruvin said, recalling he and his partner first met Ms. Norwood two days after the gruesome discovery inside the store. "She was crying; she was shaking. It was very difficult to listen to her."
However, during the interview at her D.C. apartment, Ms. Norwood, 29, offered information that unraveled her initial account and led to her being charged.
Police had found a pair of size-14 men's sneakers inside the store that matched footprints in the blood surrounding Murray's body.
"We thought the suspects brought the shoes in," Detective Ruvin said.
But in their interview, Ms. Norwood described the shoes and where they were found, stating the store used them for customers.
Even as police grew wary of Ms. Norwood's account, they continued to search for the two masked men she described.
By coincidence, an outdoor surveillance camera at the neighboring Apple Store captured images of two men in all black walking quickly away from the rear of the Lululemon store about an hour after the March 11 slaying.
More than 300 tips also came pouring in to police, with people describing a man who was known to hang out at a bar near the store and had a history of acting aggressively with women. The man had not been seen in the days after Murray's death, arousing suspicion, Detective Ruvin said.