The House Committee on Oversight and Government Reform will consider a bill Thursday that tightens hiring practices in D.C. government, even as the District considers its own reforms after some appointees landed jobs at city hall through nepotism and other fast-track channels.
Rep. Darrell E. Issa, California Republican and chairman of the committee, introduced the D.C. Employee Suitability Act of 2011 on Monday, shortly after a report by his oversight body criticized the vetting of a minor 2010 mayoral candidate who was hired and then fired this year from a city agency at the outset of Mayor Vincent C. Gray's term.
The report had been an overall boon for Mr. Gray, finding his transition team did not promise anything more than a job interview to Sulaimon Brown, who claims he was paid and offered a city position to attack incumbent Mayor Adrian M. Fenty on the campaign trail last year.
It marks the second time this year an investigative body failed to find evidence Mr. Gray directly paid Mr. Brown or promised him a job, although it was less forceful on the latter point than a D.C. Council committee that issued its findings in August.
But it turned into a Pyrrhic victory for the mayor, when Mr. Issa introduced a bill that would require the District to screen employees in the same manner as the federal government, including criminal background checks for all political appointees.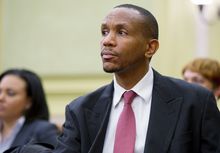 Mr. Gray and other city officials condemned the bill as unnecessary meddling in city affairs.
"The District already runs a more stringent background check than the legislation would require," the mayor said.
Council member Mary M. Cheh, Ward 3 Democrat, has already introduced a bill that would reduce the number of political appointees afforded the mayor, call for proper screening of appointees and shed light on their qualifications.
Nonetheless, Mr. Issa said his bill will "help prevent past failures."
"Unless or until District leaders stop apologizing for outrageous abuses in government and adopt measures to address these problems, congressional action is the only way to implement needed standards as a bulwark against cronyism," he said.
The reforms stem in part from allegations by Mr. Brown, who says Mr. Gray; his campaign chairman, Lorraine Green; and campaign consultant Howard Brooks arranged to pay him at various places around the city.
Mr. Issa's committee concluded that several money orders produced by Mr. Brown "appear to have been purchased by members of the Brooks family and persons related to Brooks," yet the evidence does not implicate the mayor and his advisers.
The congressional findings mirror those of the council committee that looked into Mr. Brown's accusations and charges of nepotism in the hiring of various personnel during Mr. Gray's transition into office.
However, the local panel chaired by Ms. Cheh gave more credence to Mr. Brown's claims that he was promised a job, "or at least given a promise that fairly could be construed as a job offer," the council report said.
On Monday, Ms. Cheh said the congressional body had more latitude to be tough on Mr. Brown than her own committee, because it would look like council members were "going easy on the mayor" if they took a hard-line approach with the key witness.