ENGLEWOOD, COLO. — Tim Tebow wasn't sacked Monday.
One day after giving his embattled young quarterback a less than ringing endorsement following a 45-10 loss at home to the Detroit Lions, Broncos coach John Fox said he's sticking with Tebow.
"For this week, yes," Fox said.
Tebow said he doesn't feel as though he's on a week-to-week basis but that he's not one to fret about the future anyway.
"It's just take it one day at a time, consistently trying to get better and not focusing too far in the future," Tebow said. "Today's the day I've got to improve, and that's kind of the focus."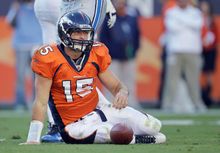 By not committing to him beyond Sunday's game at Oakland, Fox made it clear that Tebow has to quickly improve as a pocket passer to retain his starting status.
"I think at the end of the day, we've got to see if he can improve and get better in the passing game," Fox said.
Since supplanting Kyle Orton at halftime against San Diego on Oct. 9, Tebow has completed 46 percent of his passes (35 of 76) and been sacked 13 times.
Giants' Nicks may not be available against Patriots
EAST RUTHERFORD, N.J. — New York Giants wide receiver Hakeem Nicks tweaked a hamstring on the next-to-last series of Sunday's win over Miami, and his status for this week's game against New England is uncertain.
Nicks' injury is a major concern because the Giants have relied on the passing game much more this season with the running game bogged down. He is tied for 13th in the league with 38 catches.
Polamalu's safety play violated NFL rule
PITTSBURGH — Steelers safety Troy Polamalu's slapping of the ball into the end zone at the end of Pittsburgh's victory over the New England Patriots was against an NFL rule.
Polamalu slid after Tom Brady's fumble in the final moments of the game and knocked it into the end zone for a safety, making the final score 25-17 for the Steelers.
When asked about the play after the game, Polamalu said, "Whatever is going to get me in trouble, I'm saying the opposite."