For both supporters and opponents of school vouchers, the very mention of the term stirs emotions and generates heated debate in the public education arena.
But that's not stopping lawmakers in Ohio, Pennsylvania and elsewhere from proposing expanded voucher programs. They're just calling them something else.
In Ohio, vouchers are being repackaged as "educational choice scholarships." The Pennsylvania state Senate last week cleared legislation pushing "opportunity scholarships" as part of Gov. Tom Corbett's education reform plan.
The rebranding of vouchers, specialists say, is intentional and designed to keep the public's mind open.
"In some ways, it's become a dirty word," said Whitney Duff, director of legislative affairs at the National Association of Independent Schools. "It's been used with a lot of negative connotations. A lot of folks have been trying to change the language."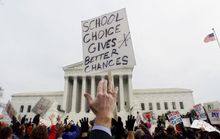 Voucher programs are operating in at least seven states, including Ohio, and several citywide systems such as Cleveland, Milwaukee, New Orleans and the District, according to the National School Boards Association.
Most focus only on low-income families or those with disabled children. Some limit vouchers to families in the worst-performing districts.
Legislators in Ohio are pushing a bill that would expand eligibility across the entire state, but would maintain income cutoff points.
Another bill in the Buckeye State would provide families with tax credits to send their children to private schools.
In the Keystone State, Mr. Corbett's proposal would be phased in over time. It initially would affect only the poorest students in the worst 5 percent of school systems.
Within six years, the governor's plan would apply to all low-income students in schools where at least 50 percent of students scored below average on standardized reading and math tests. The bill is awaiting a vote in the state House.
Voucher critics, such as federal Education Secretary Arne Duncan, have long painted such programs as the enemy of public education, an unfair scheme that diverts money from struggling districts and gives it to religious schools or other private institutions.
Mr. Duncan said recently that he "will never support school vouchers." He said states and the nation as a whole already "underinvest" in public education, and vouchers would only compound that problem.
Supporters say a voucher program is a necessary component of school choice and the only way low- and middle-class families can get their children out of underperforming or dangerous public systems, particularly those in inner cities.
Beyond the philosophical debate is a public relations battle, and voucher backers say teachers unions and other groups have waged effective attacks.