A free-roaming, third-person, gaming franchise gets transformed into a bite-sized Halloween treat for fans of Cole MacGrath with inFamous: Festival of Blood (Sony Computer Entertainment and Sucker Punch Productions, reviewed for PlayStation 3, rated Teen, $9.99).
Within this downloadable standalone miniadventure exclusive to the PlayStation 3 (neither inFamous games are required), a player takes control of the superpowered warrior as he deals with a major pain in the neck.
A story told by Cole's horndog pal Zeke to a buxom bar patron relays the day Cole became a blood sucker at the teeth of Bloody Mary during the Pyre Night festival in New Marais (a stunning take on New Orleans). Cole must kill the villainess before sunrise or become a permanent creature of the night.
Cole comes loaded with his standard set of charged and acrobatic powers Sith Lords dream about (from a Force push to streams of electrical current at his fingertips to a tripwire rocket made of electricity) and gets a short list of awesome additions to his arsenal as a vampire.
They include using a cross with a silver tip to stake his foes, a level of X-ray vision (think a targeted Detective Mode from Batman: Arkham City) that allows Cole to see hidden objects and vampires disguised as humans, and an awesome trick called Shadow Swarm.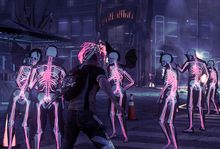 The Swarm is a flight option set in the first-person perspective that propels him through the skies in a cloud of bats to zip around town or emerge upon a blood gobbler and stake him in quite the visual flare. It's a frenetic vibe pulled right from Francis Ford Coppola's version of "Dracula."
Cole also must drink the blood of the citizens of New Marais constantly (a cool move that had me wipe out 100 victims in about 40 minutes) to maintain his new abilities and seek out Canopic jars of blood to extend the capacity of his powers.
His enemies appear to be culled from the finest creatures seen in "Van Helsing" and "30 Days of Night" as he battles a selection of man bats, distinguished fanged foes and slobbering blood junkies.
Besides the hunt for Bloody Mary and her minions, a task that will take a couple of hours, players can enjoy side missions built by other players through the user-generated content (UGC) feature.
During my time with the game, the boys at Sucker Punch built an extra pair of side missions. One, called "Blood Conduit," required rescuing Zeke from a nest of vampires, and another, "Animals," gave the player a set amount of time to root out a group of Firstborn blood demons masquerading as humans.
Finish the adventure to access the UGC tool set found in the full games. Now an amateur game designer can craft minimissions for everyone to enjoy online. Additionally, new to the tools, he can incorporate stills taken of characters and use them to build comic-book-like panels to present their own narrative, complete with dialogue bubbles.
In the finest tradition of themed video-game download packs such as Call of Duty: Zombies and Red Dead Redemption: Undead Nightmare, Festival of Blood delivers some scary interactivity that extends the inFamous canon in a cost-effective and brilliant way.