RAMALLAH, West Bank — Palestinians have long been skeptical of America's ability to help them win independence. But low expectations have turned into frustration and in some cases outright anger after the U.S. threatened to derail a bid for U.N. recognition of an independent state and Congress put a hold on $200 million in badly needed aid.
Protests have been small so far, from burning a few U.S. flags and pictures of President Barack Obama to editorials blasting U.S. policy and portraying Washington as beholden to Israel. On Tuesday, about 30 people accosted a U.S. diplomatic convoy in the West Bank town of Ramallah, chanting "shame on you" and hurling a shoe outside a U.S.-hosted reception at a local restaurant.
Some senior politicians and well-known opinion makers have publicly written off the United States as a credible broker, tapping into a broad sentiment among Palestinians that going to the U.N., in defiance of Washington, was the right move.
Washington's threat to block U.N. recognition of Palestine is an "act of aggression," said writer Hani al-Masri, who boycotted the Ramallah reception by U.S. diplomats. Other invitees said they stayed away because they feared a backlash in their community — an indicator of the combative mood in the West Bank.
U.S. officials did not comment publicly, but privately played down the problem. "One thrown shoe is not evidence of growing anti-American sentiment among the Palestinians," one official said on condition of anonymity because he was not authorized to speak to the media.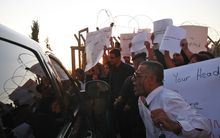 Al-Masri believes anger would only grow if the Obama administration goes ahead with a veto in the U.N. Security Council, the only body that can bestow full membership. The Security Council is still reviewing the Palestinian application and it's not clear whether the Palestinians can muster the needed majority of nine of 15 members which would trigger the American veto.
A potential cut in U.S. aid to the Palestinians could further deepen the rift. In late August, members of Congress put a hold on some $200 million, or nearly one-third of the U.S. funding for the Palestinians for 2011.
The U.S. is the single largest contributor nation to the Palestinians' annual aid of hundreds of millions of dollars — a package that is critical to development projects and the functioning of the Palestinian Authority.
The Congressional action was meant as a warning, but it did not deter Palestinian President Mahmoud Abbas, who submitted the request for recognition of Palestine in the West Bank, Gaza and east Jerusalem — lands captured by Israel in 1967 — to the U.N. a month later.
Since then, U.S. aid programs worth tens of millions of dollars have been suspended for lack of funding.
The Obama administration has been trying to get Congress to reconsider, arguing that such cuts only weaken those working for an Israeli-Palestinian peace deal. But the administration also insists that a Palestinian state can only arise from negotiations, not in the United Nations, and has lobbied Security Council members not to support the bid for recognition.
Negotiations between the Palestinians and Israel have been on hold in since 2008.
Israel says it's willing to resume, but Abbas says he can't do so unless Israel halts settlement-building on occupied land and recognizes the pre-1967 frontier as a baseline for border talks. International Mideast mediators have called for a quick return to negotiations and a border deal by the end of the year, but have not proposed a way out of the standoff.
After Obama was elected in 2008, some Palestinians were hopeful that he would transform U.S. foreign policy, in part because of his stirring appeal to the Arab and Muslim world to open a new chapter. Obama also said he would make a deal on the terms of Palestinian statehood a priority from the start.
Palestinians were disappointed when, several months into his term, Obama backed down from demands that Israel freeze settlement construction and, from a Palestinian perspective, lost more and more ground to Israel's hardline government.