Tomas Vokoun is not a loser.
He has lost 267 games during his NHL career, fourth-most among active goaltenders - but he's also fourth in save percentage and fifth in goals-against average.
Playing with the expansion Nashville Predators and then the lowly Florida Panthers, Vokoun was the proof that bad things can happen to a good goalie.
Even the games he won took a toll on the 35-year-old.
"Obviously, it's demanding. Every little mistake gets magnified because that can decide the game," Vokoun said. "If you're looking at scoring an average of two goals a game, you can only give up two. It was hard playing that way."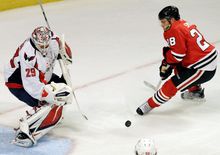 And while it wasn't Vokoun's first choice to sign a one-year deal worth $1.5 million, he's with the Washington Capitals now and has a chance to not only put losing behind him but also capture a Stanley Cup with his career winding down.
"I think everybody who plays NHL — that's their goal. Obviously for various reasons, I didn't have the chance very often in my career," he said. "I would say this is the first time, legitimately, that I'm on a team that is considered one of the top teams."
'You give up that goal and we lost'
Predators coach Barry Trotz speaks in glowing terms about Vokoun, who was the franchise's first star while the teams were pretty bad. Nashville missed the playoffs five times, and Vokoun lost 159 games (not counting overtime losses). He won 161.
"We were an expansion franchise and … the way to sort of get through the expansion phase and get to the competitive phase is win some hockey games," Trotz said. "He gave us a chance to be successful - to take the first step."
When he was traded to the Panthers, it didn't get much better. He led the league in losses twice, and Florida finished in last place the past two seasons.
"Every mistake you make, people tell you, 'You give up that goal and we lost,' " Vokoun said. "It's kind of hard when every game is like that."
Vokoun called it "tough" to constantly be on bottom-feeding teams. It didn't matter that he posted impressive save percentages above .920 in each of the last three years.
"I'm a competitive person, and what was the toughest part about it — when you play professional sports, you hate to lose," he said. "I did my share of it the last few years in Florida. That's one of the reasons I decided I want to change scenery, and I didn't sign an extension in Florida, because I didn't think the team was going to be anywhere near close to where I want to be hockeywise."
Stealing Vokoun