BELGRADE — Just a decade ago, Serbia joining the European Union would have been unthinkable.
But today, EU officials — and Serbs themselves — say that allowing the former pariah state into the exclusive bloc could bring benefits to both.
"Serbia is already a close trading partner of the EU — both sides benefit from this economic relationship," said John Clancy, acting spokesman for EU Enlargement and Neighborhood Policy.
"EU economic actors have invested more than [$13 billion] over the last decade in Serbia," he added.
Mr. Clancy said that expanding the EU to include Balkan countries such as Serbia would help bring peace and stability to the region and "economic benefits to the countries which join and to the European Union as a whole."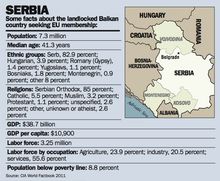 "An enlarged EU carries more weight and acts as a stronger international player when issues are discussed on the global stage," he said.
In June, Serbia's Balkan neighbor Croatia finalized negotiations to become the EU's 28th member by 2013. Member states will decide on Serbia's candidacy on Oct. 12.
According to recent polls by Serbia's European Integration Office (SEIO), about 53 percent of Serbians want to join the EU, mostly for economic reasons — and despite their government's rocky relations with Western Europe over the past few decades.
"Serbian citizens are becoming less idealistic and more rational when it comes to the EU," said Milica Delevic, director of the SEIO. "They don't like everything, but they maintain it is in Serbia's best interest to move in the direction of membership."
Serbia emerged from the 1992 breakup of Yugoslavia awash in civil strife and ethnic violence, and has seen its borders redrawn, political instability, economic turmoil and an independence movement in the province of Kosovo.
The country only started to turn itself around after the national elections in 2000, when more than half a million people protested in the streets of the capital, Belgrade, resulting in the ouster of President Slobodan Milosevic.
Today, Belgrade, like the country itself, is a work in progress — with decrepit buildings in the downtown area contrasting with the restored pedestrian shopping lanes that feature high-end stores, trendy restaurants and cafes in parts of restored Old Town.
Still, most residents can't afford to frequent the upscale establishments.
"People here have nothing," said Anna, a Belgrade native and dance instructor who declined to give her last name. "And young people can't afford to go to university because it's all privatized. So I think it's a good idea to join the EU because we have to try something new to make a change."
According to Serbia's Statistical Office, the country's unemployment rate is 22.2 percent. The average monthly net salary is $707 in Belgrade and $566 in the rest of the country.