Power may be the ultimate aphrodisiac, but an interest in partisan politics may not be such a turn-on.
Singles searching to connect with soul mates via the Internet are more likely to admit that they are overweight on their online dating profiles than to acknowledge that they are active Republicans or Democrats, according to an extensive academic survey.
The study, published in the journal Evolution and Human Behavior, found that only 14 percent of online daters included "political interests" among their favorite interests. Politics ranked 23rd out of 27 categories identified by singles as topics of interest, just below "video games" but slightly above "book club."
For those seeking love connections, apparently, it's less damaging to reveal that they've got the body of a Kevin James than the mind of a James Carville.
"To put this figure into perspective, when asked to describe their body types, a higher proportion of daters (17 percent) voluntarily described themselves as either 'heavyset,' having 'a few extra pounds,' or 'stocky,'" the study said.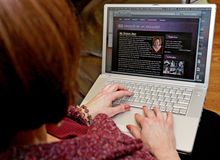 Why would singles hesitate to reveal their political leanings? One reason is that politics is considered "a potentially controversial topic to discuss with a potential mate," and thus a big turnoff, according to the article "Do bedroom eyes wear political glasses? The role of politics in human mate attraction."
That holds especially true at the initial stage of the dating process, when singles are deciding whether or not to contact someone on a matchmaking website.
"The costs of displaying political affiliation are potentially high at this point because when people do not share the same political attitudes, strangers view them in a less positive way, have less warm feelings toward them and base future views of them through this less positive lens," the study said.
The study was authored by Casey A. Klofstad of the University of Miami, Rose McDermott of Brown University and Peter K. Hatemi, a genetic epidemiologist at the Queensland Institute of Medical Research.
The authors gathered data from profiles posted on one popular Internet dating website, which they did not reveal. Their information came from 2,944 profiles from 313 ZIP codes selected randomly, with the results accounting for sex, age, race, education and income.
Other research has shown that some singles refuse to date across party lines. As a result, "signaling one's political affiliation may remove half the dating pool."
When singles were asked to reveal their political bent in the "politics" section of the profile, most elected to punt. Fifty-seven percent described themselves as "middle of the road," while 16 percent identified themselves as "conservative" and 9 percent said they were "liberal."
The results point to an interesting contradiction. Other studies have shown that married couples tend to share the same political views. Indeed, spouses "appear to be more similar in their political preferences than almost any other trait, with religious affiliation being the exception," the article says.
Somewhere between the first date and the wedding vows, then, singles are weeding out the political undesirables and forming lasting relationships with their ideological compatriots. It's possible that they're making connections based on other factors, such as age, religious affiliation or education, that tend to correlate with political beliefs, researchers said.
"Accordingly, while we might not be choosy on politics at the outset of a relationship, individuals are likely to make a long-term association with a partner who shares critical values, such as their political attitudes," the study concludes. "Thus, it is only the majority of those who share political views who remain in long-term relationships."