Will Ferrell to receive Mark Twain humor prize
Jack Black, Conan O'Brien and Larry King will honor Will Ferrell with the nation's top humor prize, along with Maya Rudolph and Molly Shannon from his "Saturday Night Live" days, the Associated Press reports.
On Wednesday, the Kennedy Center announced a lineup of star comedians who will perform in Mr. Ferrell's honor for the Mark Twain Prize for American Humor. They will salute him Oct. 23 in a performance taped for broadcast Oct. 31 on PBS stations nationwide.
Mr. Ferrell's longtime collaborator Adam McKay from the films "Anchorman," "Talladega Nights" and "The Other Guys" will appear, as well as Lorne Michaels, Paul Rudd, John C. Reilly and the rock band Green Day.
Mr. Ferrell starred on "Saturday Night Live" for seven seasons, perfecting his character "President George W. Bush." He went on to create FunnyorDie.com with Mr. McKay in 2007 and took his Bush character to Broadway in 2009's "You're Welcome America: A Final Night With George W. Bush."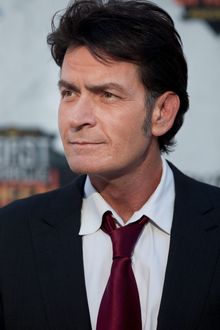 His other impressions have included Janet Reno, Alex Trebek and Neil Diamond.
Mr. Ferrell got his start in comedy with the Los Angeles improv group the Groundlings when he was discovered by "SNL."
The Mark Twain prize, now in its 14th year, recalls the social commentary and satire of Samuel Clemens, the writer known as Mark Twain. Past winners include Tina Fey, Bill Cosby, Steve Martin and Lily Tomlin.
Sheen: Crazy spring was like 'being shot out of a cannon'
Charlie Sheen says his life's a lot calmer now.
The actor and former star of CBS' "Two and a Half Men" told NBC's Matt Lauer that he didn't really know what happened this spring when he was fired from the show and began a manic round of media appearances talking about his "tiger blood" and "winning." According to the Associated Press, Mr. Lauer's interview will air on Friday's "Today" show; NBC released excerpts on Wednesday.
"It was one of those things where the planets were aligned, perfectly or imperfectly. I said some stuff and then it caught such traction globally and instantly that I couldn't really put out the fire," Mr. Sheen said. "I had to keep fueling it."
Mr. Sheen said the experience "was like being shot out of a cannon into another cannon and then being just shot out of that one. It was like from one moment to the next I didn't know what was going to happen. It was pretty exciting."
The actor said he was sober, but couldn't tell Mr. Lauer the last time he took drugs or drank. He said he didn't believe in keeping track of the sober time because "if you're walking around hanging on to your time, it's only a matter of time before it goes."
Now he said he is reconnecting with his children — Cassandra with former girlfriend Paula Profit, Sam and Lola with actress Denise Richards, and twins Bob and Max, with ex-wife Brooke Mueller — and appreciating the quiet things in life.