KAUNAS, Lithuania — While American basketball addicts are growing anxious over the NBA lockout, fans in that other hotbed of basketball — Lithuania — are in hoop heaven as they host some of the best players and action in the world at Eurobasket 2011.
Joakim Noah, the French center who led the Chicago Bulls deep into the playoffs last season, calls EuroBasket "an NBA playoff environment. It's very similar in terms of energy."
That's not only because of NBA Finals MVPs Dirk Nowitzki and Tony Parker playing for Germany and France. Noah, a dual citizen of France and the U.S. who was born in New York City, said that basketball might be bigger in Lithuania than even back in America.
"Lithuania's population is probably smaller than the state of Indiana, but you see the love and passion they have for the game here," he said after France beat Greece on Thursday to advance to the semifinals. "Even the girl on the cover of the Lithuanian Playboy magazine has a basketball in her hand."
Many American fans have never heard of EuroBasket. But an increasing number of U.S.-based players and basketball officials, who are watching the games on ESPN3.com, are realizing that some of the most dramatic and hard-fought action is happening across the Atlantic.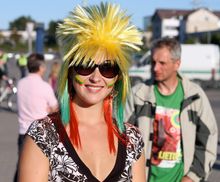 "I know a lot of people in America who are following the Eurobasket championships," said France forward Nicolas Batum, who plays for the Portland Trail Blazers in the NBA. "This is really great basketball, and Lithuania is a great basketball country. You turn on the TV, you see basketball every time. You walk down the street, you see basketball everywhere. Basketball is everywhere in Lithuania."
In Lithuanian cities such as Vilnius and Kaunas, the main streets of ancient Baltic quarters are decorated like shrines to basketball, with hundreds of hoops above street lamps. In Vilnius, a giant basketball dwarfs cars in a large open square. On the outskirts of Vilnius, the world's largest net hangs from one of the country's largest towers.
Perhaps even more than the average American, Lithuanians, from farmers to taxi drivers, describe themselves as devout worshippers of basketball. Imagine Indiana, with no other sport than basketball, they say. Unlike the rest of Europe, they don't care as much about soccer, or any other sport. "Basketball is our second religion," said Julija Kazdailyte, 27, a public servant who is nominally Catholic like many people in Lithuania. "We are not good in other sports, but we are good in basketball and we love our players."
In sold-out arenas, the sound is so loud, many photographers and reporters wear earplugs to avoid getting headaches. As fans whistled at Germany's Nowitzki at the free throw line during a game last week, a decibel meter on the scoreboard measured 110, almost as loud as listening to a concert by the Who or the sound of a jet taking off.
Indeed, watching Lithuania playing at home is like sitting on the runway watching jets take off for 90 minutes. While American crowds tend to reach a crescendo during the pregame hype, or a scoring run by the home team, Lithuanian crowd noise peaks every time the opponent has possession of the ball, whether at the free throw line or just walking the ball up the court.
As if 15,000 mouths whistling simultaneously is not enough, fans from Lithuania, Greece, Spain and elsewhere add pounding drums to the mix, along with clappers and mini-vuvuzelas — the scourge of many fans at last year's World Cup in South Africa. The pumped-up music during breaks in action has the aspect of a packed techno club.
Referees, who can't hear the smacking of hands and the slamming of bodies, tend to let rough play go on. "You're so zoned into your work, you just hope that you're whistle will be heard by the guys who are closest to you," Ronnie Nunn, a former NBA referee who is the NBA's director of officials, told The Washington Times during an interview in Vilnius, where he is training European referees. "A novice official might have trouble with it at first. It would take your attention away."
Nunn calls Lithuania "a hotbed of basketball," like Indiana and Kentucky. "I think it's absolutely great. I don't think people realize how great it really is over here until you see it for yourself. It's very similar to the excitement at NBA playoff games. But there's less of a screech in the USA."
National pride is not in hiding here. Hundreds of fans behind a hoop hold up a massive Lithuanian flag, and everyone wears the colors on that flag: yellow, red and especially green. Fans cheer loudest against Serbia and Russia, a reminder of Lithuania's struggles under the Soviet empire before their independence in 1991.
Leaders of Lithuania, Poland and other neighbors have appeared together at games, hoping to calm ethnic tensions in the region. "It gets rocking in our world too, but the extra emphasis is with the national pride they have here," Nunn said. "That gives them their extra scream."