Rex Grossman's two interceptions in the first quarter Sunday were Nos. 41 and 42 of his checkered NFL career. If there's a silver lining to all those picks, maybe it's that he has fought the emotional lows and on-field adversity that accompanied them.
So when it came time for the Washington Redskins' quarterback to undo that damage, which took the form of an eight-point deficit with 10 minutes, 52 seconds remaining against the Arizona Cardinals, he remained calm and focused on finding his team a lifeline.
"You try not to let that momentum turn that against you in a negative way," he said.
What transpired next is the stuff that restores some shine to a tarnished reputation and helps transform a six-win team to a playoff contender.
Grossman engineered two scoring drives, including an 18-yard touchdown pass on fourth-and-3, to lift the Redskins to a 22-21 victory.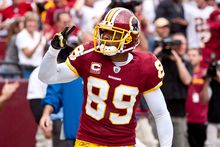 "Those are the types of situations that build momentum and confidence as a team, knowing throughout the course of the year that you are going to put in a lot of adverse situations," Grossman said. "I feel like we're one-for-one on that."
And that made the Redskins two-for-two in coach Mike Shanahan's second season. They're 2-0 for the first time since 2007 with significant momentum entering next Monday night's game against the archrival Dallas Cowboys.
The 76,330 fans at FedEx Field soaked that up, too. After a video review with 1:39 left determined that Redskins cornerback Byron Westbrook stripped Arizona receiver Chansi Stuckey, giving Washington possession to run out the clock, chants of "We want Dallas!" rose from the lower bowl.
Oh, but this win was too thrilling and too gutsy to immediately look ahead. Most importantly, perhaps, it was additional evidence that the Redskins' journeyman quarterback isn't the same guy who was run out of Chicago less than a season after helping take the Bears to the Super Bowl.
"Any time you get in a situation like that, you want a leader," fullback Darrel Young said. "You don't want a guy to fold, and that's what he did today."
Memories of Grossman's sparkling season opener against the New York Giants last week vanished with one swing of Grossman's arm on the Redskins' first series. On third-and-goal from Arizona's 6, he overthrew Santana Moss cutting parallel to the goal line, and Cardinals safety Adrian Wilson intercepted it.
It was a wretched start, considering the magnitude of missed red-zone opportunities. Grossman moved forward, though, knowing the gaffe wasn't entirely his fault.
Moss, it turned out, stopped running his designed route. He thought he could get open by improvising and cutting inside, but he was supposed to break back to the sideline. Grossman looked to Moss but pump-faked, unsure of his intentions. By the time Moss was clear, the play was a bust.
"Rex is the dude, man," Moss said. "You can probably blame them picks on us. One of them was me trying to make a play when I should have just kept going."
The Redskins continued to amass yards — they outgained Arizona in the first half, 253-85 — but it didn't translate to points. Their second series stalled on third-and-6 at the Arizona 39 when cornerback Richard Marshall hauled in Grossman's deflected pass to receiver Anthony Armstrong.