Someone forgot to tell appmakers that the economy is flirting with a double-dip recession.
Facebook, the world's most popular social networking website, inspired an "App Economy" that created as many as 235,644 jobs and has spent $15.71 billion in wages and benefits so far this year, according to a study from the University of Maryland's Robert H. Smith School of Business.
It's one of the few bright spots in an otherwise dreary economy.
"Our findings confirm that social media platforms have created a thriving new industry," said Il-Horn Hann, an associate professor at Maryland who led the study. "As Facebook and other platforms grow, we will continue to see job growth and the ripple effects of these advances in the U.S. economy."
In the App World, Facebook is competing with the likes of Apple (iPhone) and Google (Android), which both offer smartphone apps. The social network had more than 750 million active users as of July. Each day, they install more than 20 million apps.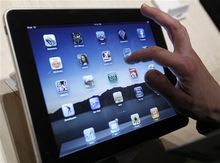 Facebook's app economy is led by popular games such as "Angry Birds," "Farmville" and "Mafia Wars." Each app generally costs between 99 cents and $4.99.
"I think this just speaks to the fact of how strong social gaming really is," Mr. Hann said. "We attribute it to the power of social networking."
The study is surprising technology analysts.
"It's certainly a lot more powerful than we originally thought," said Rob Enderle, principal analyst with Enderle Group. "We knew it was generating income and jobs, but none of us thought it was anywhere near these numbers."
Jeff Kagan, a wireless and telecom industry analyst based in Atlanta, said the "Facebook App Economy" is a "growing and healthy segment."
"The App World is a brand new part of the economy, and they're playing a very important role," he said. "Who would have thought apps would be this important? That's an incredible feat."
The timing, analysts say, couldn't be better. The success stands out at a time when the rest of the economy is struggling.
"They're one of the engines that are helping to create jobs in a market that's been shedding them of late," Mr. Enderle said. "They're a powerful example of how technology can continue to benefit this country."
The jobs are the real standout at the moment.
"If the economy was really rocking, the question is, 'Would this be as important?' I think it'd be drowned out by the other ones," Mr. Kagan said.