A former mechanical engineer who realized that her true calling was education is the 2011 D.C. Public Schools' Teacher of the Year.
"I think I've always sort of known I wanted to be a teacher at some point," said Shira Fishman, a math teacher at McKinley Technology High School. "I always did well in math and science, so it made sense to do engineering … but there was always a pull in the back of my mind."
That pull became too strong to ignore in 2003 when Ms. Fishman was coaching a summer basketball league at Montgomery Blair High School in Silver Spring, where she had been a standout guard.
Though she liked her job at an engineering firm and loved her co-workers, her coaching had evolved into a mentorship for the young players, and Ms. Fishman soon found herself more passionate about the summer job than her career.
McKinley Principal David Pinder said he nominated Ms. Fishman because she demonstrates three key characteristics in the classroom: building student confidence, instructing in a way every student can understand and fostering relationships with students.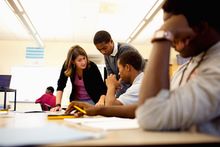 "She has an uncanny ability to make the content come to life," Mr. Pinder said. "Ms. Fishman is the kind of person that if we continue to hire, we'll close that gap between our counterparts in Asia and other parts of the world."
Ms. Fishman, 32, joined the District school system through the D.C. Teaching Fellows, a program that places educators in the classroom while they earn their teaching degree.
She said the decision to teach in the District was easy because "I just wanted to help where I was living and work where I was living."
Her first classroom was in Hine Junior High in Southeast.
With only a year of experience under her belt, Ms. Fishman's work in the classroom would again stretch to the basketball court when she was tapped by her principal to coach the foundering boys' team. In 2005, The Washington Post chronicled the story of how the courtside leadership of a former Tufts University basketball player helped her students succeed in a largely poor, and at times dangerous, environment.
Two years later, Ms. Fishman transferred to McKinley.
Today, she lives within walking distance of the Northeast school and serves as chairwoman of the math department.
Still, she finds time to play on several flag football teams and got engaged in July.
Public schools Chancellor Kaya Henderson said Ms. Fishman won the award and $10,000 in prize money mainly because of her "tireless efforts" to bolster her students' confidence.
Ms. Fishman said she will put the money toward her wedding next year.