Prince George's County residents went to the polls Tuesday hoping not just to elect a replacement for former County Council member Leslie E. Johnson, but to close the book on one of the corruption-plagued county's most embarrassing scandals.
Many voters in the county's 6th District were optimistic as they voted in special Democratic and Republican primaries to fill the seat from which Johnson, a Democrat, resigned after pleading guilty to federal witness- and evidence-tampering charges.
Polls were scheduled to close at 8 p.m. in primaries that featured 14 Democrats and an unopposed Republican in the 85-percent Democratic district.
Early in the count, Democratic candidate Derrick Leon Davis, who finished second to Johnson in last year's primary, led with 50.1 percent of votes as of 9:30 p.m. with eight of 26 precincts reporting. Arthur Turner was second with 20.7 percent of votes and Mark Polk had 11.4 percent.
Republican candidate Day Gardner ran unopposed.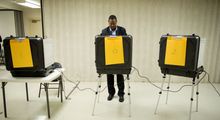 Voters expressed confidence that Johnson's successor on the nine-member council will not betray the public's trust, and that Johnson's actions were more an aberration than the norm in a county hoping to shake off long-held allegations — even from its own officials — of a "pay-to-play" culture.
"I'm embarrassed for what the county is being forced to go through," said 50-year-old Mitchellville resident Brian Austin. "The actions of a small group of people are not indicative of the entire county. There's a lot of good here."
Johnson was arrested in November, shortly after flushing a $100,000 check down a toilet and hiding nearly $80,000 in her underwear from federal investigators as they closed in on her husband, then-County Executive Jack B. Johnson, a Democrat.
He would plead guilty in May to extortion and federal witness- and evidence-tampering charges. His wife resigned from her council seat in July.
The Democratic primary winner is expected to easily win an Oct. 18 special general election for Johnson's former seat, which represents part of central Prince George's County including Capitol Heights, District Heights, Forestville, Largo, Mitchellville and southern Bowie.
Other residents who braved rainy weather to vote Tuesday also said they wanted to move beyond the Johnsons' crimes.
"The people coming into office now have an opportunity to make Prince George's gorgeous again, but they have to be careful who they get into bed with," said Percie Rutherford, 63, of Upper Marlboro. "We don't want to get tricked anymore."
County Executive Rushern L. Baker III, a Democrat, entered office in December pledging to end corruption in the county.
The county has had numerous scandals over the years, including corruption convictions since 2005 against a former county schools chief and deputy directors of the county's Department of Natural Resources and Office of Central Services.
State Sen. Ulysses Currie, Prince George's Democrat, will also stand trial this month on charges that he accepted $245,000 in bribes from a grocery chain.