In what likely will prove a crowd-pleasing triumph, Russian GMPeter Svidler edged compatriot GM Alexander Grischuk 2 1/2-1 1/2 to win the FIDE World Cup knockout tournament Monday in Khanty-Mansiysk, Russia. The likable Svidler, who has been among the world's elite for nearly a decade, did not lose a game in seven matches at the World Cup. He eliminated tough customers including American Gata Kamsky and Ukrainian Ruslan Ponomariov along the way to the final.
Svidler and Grischuk receive automatic seeds in the next world championship candidates cycle, along with third-place finisher GM Vassily Ivanchuk of Ukraine, who defeated Ponomariov by the same score in the consolation match.
–
French GM Romain Edouard went 7-2 to capture the Category 9 Inventi Tournament in Antwerp, Belgium, earlier this month. But the real star of the event was the second-place finisher: Dutch legend Jan Timman.
The West's strongest player in the years after Bobby Fischer's abrupt retirement from the game in the mid-1970s, Timman still is a dangerous opponent on the cusp of his 60th birthday. The Dutchman finished a half-point behind the winner, did not lose a game, and defeated Edouard in their individual game during the tournament.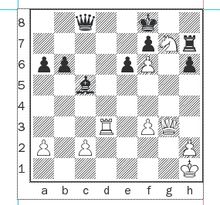 A fine example of Timman's prowess came against Dutch IM John Van Der Wiel in an offbeat Sicilian in which White signals his aggressive intentions with a knight sacrifice nine moves into the contest. With Black's development badly lagging, Timman is in no hurry to recover his gambited material, and he stays in control of the play all the way through to resignation.
On 12. Bf4 Bc8 (Nf6? 13. Nf5 shows the difficulty Black faces untangling his game) 13. Qd2 a5 14. a3 Ra6?! 15. axb4 axb4 16. Qxb4 Rb6 17. Qa3 Ra6 18. Qb4 Rb6 (trading rooks just eliminates Black's one active piece) 19. Qa5 (Ra6? loses to 20. Qxd8+ Bxd8 21. Rxa6 Nxa6 22. Bxd6+ Be7 23. Bxe7+ Nxe7 24. d6 Nf5 25. Nxf5 Bxf5 26. Ra1 Bc8 27. d7) 20. Rxe7! (exploiting the overworked queen; if now 20…Nxe7, then 21. Bxg5 Rg8 22. Be3 and the White bishops dominate) gxf4 21. Re4 fxg3 22. fxg3 Nf6 23. Rf4, the open f-file only enhances White's advantage.
By 26. Rxf6 Nxf6 27. Qxf6, White has restored the material balance, while his pieces remain vastly better positioned. Timman efficiently reels in the point with 28. Nd4 Qe7 (Rxb2?? 29. Ne6+) 29. Qf2 Rg6 30. Ne6+ Rxe6 31. dxe6! (White already has his course plotted for the winning ending on the horizon) Rxb2 32. Bxb7 Qxb7 (Rxb7 33. Ra8+ Kg7 34. Qd4+ Qf6 35. Rg8+!) 33. Rf1 (a little flashier would have been 33. Ra8+! Kg7 [Qxa8 34. Qxf7 mate] 34. Qd4+ Kg6 35. Rg8+ Kf5 36. Qg4+ Kf6 37. Qg5+ Kxe6 38. Re8+ Kd7 39. Re7+ and wins, but White's move is plenty good enough) Rb1 34. Rxb1 Qxb1+ 35. Kg2 Qb7+ 36. Kh3 Qe7 37. Qxf7+!, snuffing out Black's last hopes of saving the game.
With the queens gone, White's extra pawn wins easily after 39. Kg4 Ke6 40. Kg5 and Van Der Wiel resigned. An extremely savvy performance from the veteran.
–
Our discussion last week on deflection sacrifices generated some nice feedback, and the second round of play in the U.S. Chess League earlier this month allows us to squeeze in one more. It was the round's Game of the Week, with Boston Blitz SM Jorge Sammour-Hasbun showing how it's done against IM Lev Milman of the Manhattan Applesauce.
In another Sicilian, White offers first the classic poisoned pawn gambit on b2 and then, as in the Timman game, proffers a knight, though accepting here after 19. Qe2 Rg8 20. Nf5! with 20…exf5?? allows 21. Nd6+ Kd7 22. Qe8 mate. Instead, after the game's 20…Nxe4 21. Qxe4 Bc5+ 22. Kh1 Bb7 23. Ng7+ Kf8 (Rxg7 24. fxg7 Bxe4 25. g8=Q+ Ke7 26. Qxf7 mate) 24. Qxh4, a very doubled-edged position has arisen in which Black's powerful bishop pair are balanced by White's king-side pressure.
In the end, it is White's dominance of the d-file that proves decisive, with a rook deflection along the file the killer blow: 26. gxf3 Rh8 27. Rd3 Rd8 28. Rbd1 Rxd3 (Rd6 29. Rxd6 Bxd6 30. Qe4 Kg8 [Bxh2 31. Qa8+ Qb8 32. Rd8+] 31. Ne8 is a neat fork) 29. Rxd3 Qc8 30. Qg3 Rh7 (see diagram; on 30…Rg8, White has 31. Qf4 h5 32. Qh6 e5 33. Nxh5+ Ke8 34. Ng7+ Kf8 35. Qh3! Qe8 36. Qd7 [and not 36. Nxe8?? Rg1 mate!] Qxd7 37. Rxd7 Rxg7 38. Rd8 mate) 31. Rd7!!.
Black resigns at once, as the rambunctious rook can't be taken and can't be left alone: 31…Qxd7 (Black has to do something about the threatened 32. Nxe6+ fxe6 33. Rxh7 Ke8 34. Qg6+ Kd8 35. Qg8+ Bf8 36. Qxf8 mate) 32. Qb8+ Qd8 33. Qxd8 mate.
Timman-Van Der Weil, Antwerp, September 2011