'Dancing With the Stars' loses first competitor
"Dancing With the Stars" viewers didn't give Metta World Peace a chance.
The basketball star formerly known as Ron Artest was the first celebrity ejected from the 13th edition of the ABC dancing competition. The show's judges gave him the lowest score on Monday's premiere: 14 out of a possible 30.
The outgoing Los Angeles Lakers forward was locked out after viewer votes were combined with the judges' scores.
"All I want to know is who's coming with me?" he joyfully shouted after his dismissal.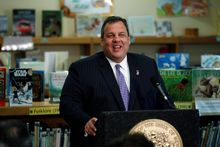 Len Goodman, the show's head judge, said the 31-year-old's cha-cha with professional partner Peta Murgatroyd was "all sizzle and no sausage" and his footwork in the ballroom was "atrocious."
For his debut performance, the over-the-top athlete bared his chest in a shimmering gold vest and shaved the Hebrew words for "world peace" into the side of his head.
The 11 celebrities remaining in the competition are World Cup soccer player Hope Solo; reality stars Rob Kardashian and Kristin Cavallari; TV personalities Nancy Grace, Carson Kressley and Ricki Lake; actors David Arquette and J.R. Martinez; Italian actress Elisabetta Canalis; singer Chynna Phillips; and author and activist Chaz Bono.
N.J. governor may veto tax break for 'Jersey Shore'
It's not a "shore" thing yet.
According to the Associated Press, New Jersey Gov. Chris Christie is considering whether to stand in the way of a $420,000 tax credit for MTV's "Jersey Shore."
The state Economic Development Authority approved the film credit last week. It covers production costs for the hit reality series' inaugural 2009 season.
Mr. Christie suspended the film tax credit program in 2010 to close a budget deficit, but the 2009 season still qualified.
The governor's spokesman suggested last week that Mr. Christie couldn't stop the tax credit, but the governor now says a veto is possible and that he's reviewing it.
The show centers on the cast living and partying along the beach and boardwalk in Seaside Heights.