The competitor inside Tim Hightower hates being on the sideline when the Washington Redskins are on offense. That same inner drive, however, is why he prioritizes winning.
So when rookie running back Roy Helu got the majority of carries in the second half of Sundays comeback win over Arizona, averaging 7 yards per attempt, Hightower was happy about it.
"It was great for me to be able to sit on the sideline and watch — it's funny saying that — but sit there and watch him," Hightower said. "Hes progressed so much, and that encouraged me. It keeps me at the top of my game."
Hightower and Helu combined for 170 yards on 30 carries in what might be the genesis of a formidable backfield combination. The two backs are similar in some aspects but different in others, making them a valuable pairing as Mike Shanahan emphasizes running the ball more in his second season as coach.
"Anytime you have three different types of backs, it does put a lot more pressure on a defense," said Shanahan, being sure to include third-stringer Ryan Torain in his thought. "But what you also want is three great backs. The more depth you have at every position, not only are you better at that position, but if someone goes down you've got a chance to not skip a beat."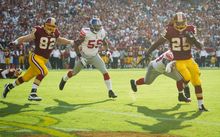 Hightower and Helu rushed for 96 and 74 yards, respectively, a relatively even split compared to those of recent Redskins rushers.
Clinton Portis and Ladell Betts combined for 189 against Philadelphia in 2008, but Portis had more than three times the carries Betts did that day. On Sunday, Hightower had 20 and Helu had 10.
Both backs, who are new to the team this season, possess the talents required to succeed in the outside zone scheme. They have good vision to recognize cutback lanes and the patience to let them develop. They also can put their foot in the ground and explode up the field.
Hightower is more of a punisher, though, and Helu has a bit more shake and speed. Hightower, a three-year veteran, has proved he is better in pass protection than the rookie.
"Those two guys, its weird, they run the same way," said Dallas Cowboys linebacker DeMarcus Ware, who will face the Redskins on Monday night. "To be able to have a guy that comes in, maybe gets a little tired, then all of a sudden you stick that second back in and hes running the same way or even stronger, thats a problem that [defenses] easily have."
Shanahan prefers to have one running back that can do everything well, as all coaches do. But some backs distinguish themselves in certain areas, which leads to a two-back approach. And there are advantages to that.
Defenses wear down as games progress, and a fresh running back can hurt a fatigued defense in the second half. Also, having two quality running backs forces defenses to prepare for different runners.
"You have to know what each running back is capable of," Redskins linebacker Brian Orakpo said. "To know if hes a power-speed guy, if hes an inside-run, outside-run — you've just got to be smart."
Defenses also can be staggered when one running back replaces another because of changes in their speed and tendencies. Hightower bristled at the common term "change-of-pace back," but there is something to that moniker, players say.
"I think thats a factor for the way things time up for [defenders] reads and the way they have their [run] fits on defense," guard Chris Chester said.