BLACKSBURG, Va. — The smile creased Bruce Taylor's face a split second after he heard the question. Was he aware what year Marshall quarterback Rakeem Cato is?
"I'm fully aware of that," said Taylor, Virginia Tech's junior inside linebacker. "He shows he can play, but he hasn't seen a defense like ours, so I feel like we can give him some trouble with all our different looks and blitzes."
Cato is a true freshman, and true freshman quarterbacks usually wilt against the Hokies, who play at Marshall at 3:30 p.m. Saturday in their final non-conference game. Even last year, when Tech's defense wasn't its usual dominant self, it limited Miami's Stephen Morris to 15-of-33 passing and three interceptions in a 31-17 Tech win.
Cato is no Morris, and Tech's defense is showing, through three games, that it has a good shot at proving last year was an aberration.
In last week's 44-7 loss at Ohio, Cato completed just 9 of 21 passes for 116 yards, one touchdown and four interceptions. Tech's defense, meanwhile, allowed an average of 224.7 yards per game against Appalachian State, East Carolina and Arkansas State.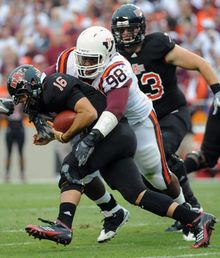 Tech's eight ACC games — especially its first two, against Clemson and Miami — will test the progress of its defense more than its modest non-conference schedule did. But defensive coordinator Bud Foster can tell that his players are much surer of themselves.
"You're just seeing guys, especially the first group, that is just playing so much faster," he said.
Last year, Foster spent much of his time drilling players on the structure of the defense, and teaching them simple things like where to line up and how to read the position of tailbacks and offensive linemen before the snap to determine whether the play might be a run or pass.
"Now they understand those things and we can coach offense now a little bit, let them understand what they can anticipate [from the offense] a little bit more," Foster said.
The defense has six new starters, but all of them played extensively last season except sophomore Tariq Edwards, the "backer" inside linebacker, who still played 111 snaps. Foster has said since spring practices that he felt hopeful about Edwards being an upgrade from Lyndell Gibson and Jake Johnson, the backers during the past two seasons. And Edwards has been, leading Tech with 21 tackles, including 4½ for a loss and half a sack.
"That's what we wanted from that position the past couple years," Foster said. "Now we're getting the productivity that I expect."
Edwards looked even giddier than Taylor when talking about facing a true freshman quarterback today.
"I'm trying to get a pick," he said.
Foster said it isn't so much Tech's blitzes that are difficult for young quarterbacks to grasp, but the number of different pass coverages the Hokies play, and how they disguise them before the snap to confuse the quarterback and force him to make a rushed (and often incorrect) decision.
Thus, Morris' three picks last season and the dreadful performance by Boston College's Dave Shinskie in 2009 (1-of-12, four yards, two interceptions) in Tech's 48-14 win.