Maryland is only two years removed from a season with 10 losses, plenty of games at a half-empty Byrd Stadium and virtually no hope by the end of the season.
It's been a bit longer, though, since the Terrapins felt so completely humiliated at home.
Maryland's numbing 38-7 loss to Temple on Saturday was a three-hour exercise in misery and a sobering jolt to a team rapidly regressing after a solid opening outing less than three weeks earlier.
"This game was embarrassing to play," quarterback Danny O'Brien said. "I'm a competitor and our whole team is. No one's taking this well."
Nor should they, especially considering the thoroughness of the loss.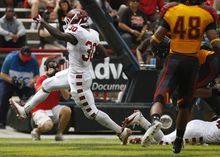 Temple scored on its first five possessions. Maryland didn't see Owl territory until it trailed 28-0. The Terps' streak of 139 consecutive games without having a punt blocked was abruptly halted. And Maryland barely averted its first shutout at home since 1997 with a touchdown against Temple's second-teamers.
"There's no need to sugarcoat anything," coach Randy Edsall said. "We got our butts handed to us today. Physically. Everything."
Playing before a dramatically smaller crowd than their first two games — it was generously announced at 39,102 and was substantially smaller as the anticlimactic second half unfolded — the Terps (1-2) produced a forgettable performance in nearly every way.
Temple tailback Bernard Pierce rushed for five touchdowns, a school record. Maryland accrued 45 rushing yards, 29 by second-string quarterback C.J. Brown. The Terps were 4-for-14 in converting third downs, helping to ensure their lowest time of possession (18:59) since the 2002 opener against Notre Dame.
Maryland's myriad of missed tackles seemed to rise with the deficit, while the Terps also surrendered their first three sacks of the season.
"They got outphysicaled," Edsall said of the Terps' linemen on both sides of the ball. "Very simple."
It barely took 20 minutes for Temple (3-1) to build a four-touchdown advantage. The only uncertainty at that stage would be the sort of humbling the Terps might absorb.
Would it follow the script of losses to West Virginia in 2006, 2007 and 2010 — rapid bludgeonings, followed up with a tame second half? A beginning-to-end humbling, the sort suffered against Florida State (2008) and Virginia Tech (2009) in the recent past?
Linebacker Kenny Tate wisely invoked another game from 2008, a night that was probably the last time the Terps demonstrated such a thorough level of disinterest for 60 minutes.
"My freshman year we lost 31-0 at Virginia," Tate said. "It felt just like this. I said I never wanted to feel this again. Now that we have another game, we know what we have to do to not have this feeling again."