ORLANDO, Fla. — Republican presidential front-runner Rick Perry strolled into Florida last week with a bull's-eye on his back, and hobbled out wounded as he struggled to explain his state's policy of offering in-state college tuition discounts to illegal immigrants.
Baffled by his position, some activists from the conservative ranks who begged the Texas governor to enter the race just a few months ago were now warning that the issue of illegal immigration is so toxic that his stance could doom his bid.
"I think it could drag him down, because it undermines a core principle, a core value, which is the rule of law," said Joe Stitch, chairman of the Republican Executive Committee of Volusia County.
Mr. Perry was booed at a debate here Thursday when he defended the policy he signed in 2001 to grant some illegal immigrants the same in-state tuition rates citizens and legal immigrants enjoy at Texas universities. He then failed to quell the grumbling when he addressed about 3,000 grass-roots activists at the Conservative Political Action Conference meeting on Friday, which in turn haunted him in the Presidency 5 straw poll on Saturday.
"If you say that we should not educate children who have come into our state for no other reason than they have been brought there by no fault of their own, I don't think you have a heart," Mr. Perry said at the debate. "We need to be educating these children, because they will become a drag on our society."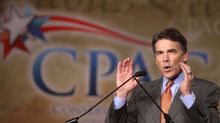 He also attacked suggestions that more fencing would help secure the border, arguing it is unwise and unnecessary to build a fence across the entire 1,950-mile length of the U.S.-Mexico border.
Before Saturday's straw poll, Florida Gov. Rick Scott said illegal immigration remains a "big issue" in Florida and predicted the vote would provide some measure of how big a hurdle the Texan faces in the state. If that's the case, Florida could be bad news for Mr. Perry's presidential hopes: He placed second to former pizza magnate Herman Cain, a political newcomer who took more votes than Mr. Perry and former Massachusetts Gov. Mitt Romney combined.
Since entering the race last month and sprinting to the lead in national polls, Mr. Perry has struggled to translate his masterful retail-politicking skills into strong performances in nationally televised debates.
Initially, he faced criticism over the executive order he issued — which the Texas Legislature later overturned — to require sixth-grade schoolgirls to be vaccinated against a sexually transmitted disease that's known to cause cervical cancer. By the time he polished his answer to that question, the immigration issue had taken its place.
The Texas tuition law, which Mr. Perry signed in 2001, made his state one of the first in the country to allow illegal immigrants to pay in-state rates at public colleges and universities. At least 10 other states have followed suit, while other states, including Florida, have blocked similar measures.
"We had that debate here in Florida, and we strongly believe the last thing you want to do is subsidize illegal immigration, and I think that would be a drag on him," state Senate President Mike Haridopolos said. "That is not the only issue. He has a real record of accomplishment as far as creating jobs, but that particular issue absolutely will not play well in Florida."
In defending his stance, Mr. Perry risks being compared with his predecessor, George W. Bush, who repeatedly clashed with his own party on the issue of illegal immigration. On Monday afternoon, Mr. Perry wrote an Op-Ed for a tea party-affiliated website arguing he took the lead as governor on trying to impose border security, including authorizing National Guard troops and state troopers to help border sheriffs.
Perry campaign strategist Dave Carney said in an interview with The Times that the other GOP candidates "don't get it" when it comes to border fencing and security. "They don't understand the complexity of building a fence and the private property you'd have to take and how you would possibly build it quick enough," Mr. Carney said. "It takes committed resources of technology, combined with working with local and state law enforcement, and federal boots on the ground to stem the crime and the criminal element and secure the border. That is what it's going to take."
As for the Texas tuition law, Mr. Carney pointed to the near-unanimous support for the in-state policy in the Republican-controlled Texas Legislature. Mr. Carney said Mr. Perry opposes a national law, and characterized Texas' policy as one of states' rights. He said the policy actually generates money for the state's community colleges and that the program "doesn't cost the taxpayers of Texas anything."
Dominic Chavez of the Texas Higher Education Coordinating Board said 16,476 undocumented students received the in-state rate in 2010. To qualify, students had to have graduated from a Texas high school, lived in the state for at least three years and signed an affidavit swearing to seek legal residency. Last year, state funding for these students amounted to $12.1 million. Those students, meanwhile, paid $32.7 million in tuition and fees over the same period of time. This school year, the difference in cost between in-state and out-of-state tuition is about $10,000 for full-time university students and $2,600 for community college students.