UNCASVILLE, Conn. — Ryan Westbrooks wants to take his chips and go home. The boisterous 34-year-old gun manufacturer takes the hourlong drive from his home in Springfield, Mass., to the Mohegan Sun casino in the rural southeastern corner of Connecticut every time he has a day off. In between poker hands, the Smith & Wesson employee bemoans the fact that he has to cross state lines to place his bets, and he's not the only one.
On any given day, the Mohegan parking garage has a sea of vehicles with Massachusetts license plates.
"We're losing so much money," he said of his state while playing roulette, his game of choice when he needs a break from Texas hold 'em. "People who gamble are going to gamble. It's just a matter of whether you gamble close to home or you gamble an hour away."
For Mr. Westbrooks, the odds of gambling closer to home are getting much better. Led by Massachusetts, legislators and state officials across New England are lining up behind casinos as the heart of American puritanism eyes a transition into the Las Vegas of the Northeast.
The Massachusetts House two weeks ago overwhelmingly gave the green light to three resort casinos and a slots parlor. The state Senate has begun debating the bill, which also has the backing of Gov. Deval Patrick, a Democrat, and is expected to pass it in the next week.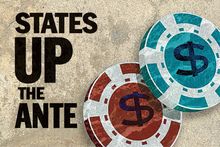 Bay State lawmakers say commercial gambling will generate as much as $300 million each year through taxes on casino revenue, and nearby states also are eyeing blackjack, craps and slots as financial saviors.
Critics are steadfast in their opposition, citing the bankruptcies, divorces, alcohol and drug addictions and other problems that could grow out of increased gambling. Despite the resistance, states are betting that thousands of jobs would be created and a flood of tax revenue would pour into depleted coffers.
In November, voters in Maine, which has one casino and a second under construction, will decide whether to allow two more. New Hampshire is considering two full-blown casinos, and supporters argue that the state must compete with nearby Connecticut, which boasts two massive casinos on tribal land, and Rhode Island, home to two slots parlors.
Not wanting to be left behind, top lawmakers in New York, which allows gambling only at racetracks or on American Indian reservations, have come out in support of a constitutional amendment to legalize commercial table games and slot machines. In New Jersey, the traditional East Coast gambling powerhouse Atlantic City is looking at fresh investments to protect its turf.
Keep them close to home
States are betting that hard-core gamblers like Mr. Westbrooks will stay in his home state if given the opportunity. Most casino regulars, analysts say, have allegiance only to the games, not the people and places.
"Gamblers are very fickle. They'll go to casinos that are most convenient to where they live. Their primary objective is the gaming, not loyalty," said William R. Eadington, director of the Institute for the Study of Gambling and Commercial Gaming at the University of Nevada at Reno.
Most casinos, Mr. Eadington said, attract more than 95 percent of their customers from within approximately a 100-mile radius. The exceptions are residents of states that prohibit gambling. Pennsylvania experienced an exodus until its first casino opened in 2006. The Keystone State now has 10 casinos, including three in or around Philadelphia, siphoning away gamblers who once filled charter buses to Atlantic City.
By keeping its bettors in the state, Massachusetts could deal a serious blow to two of its neighbors. A report from Moody's Investors Service Inc. concluded that "Connecticut faces the biggest risk," but Rhode Island also "could sustain a major blow."
That blow could be worsened if New Hampshire jumps into the mix. The state estimates that Connecticut's Mohegan Sun and Foxwoods casinos are the beneficiaries of about $80 million each year from New Hampshire residents. Another $70 million would be spent at Massachusetts casinos if they are built, according to a gambling study commissioned by New Hampshire Gov. John Lynch, a Democrat.