Students may not want to hear it, but schools that have experimented with extra periods and longer school years report higher graduation rates and higher test scores, according to a new report from the National Center on Time and Learning, a Boston-based nonprofit advocacy group.
About 1,000 school districts now keep their students in class well past 3 p.m., and some have extended their year deep into the summer. Many policymakers want to see that trend continue. Education Secretary Arne Duncan said it's no surprise that the U.S. is falling behind global competitors who aren't bound by the traditional 180-day school year.
"If we're serious about closing achievement gaps — we can't keep doing business as usual," he said Friday at a roundtable discussion hosted by the Center for American Progress.
"Right now, children in India, children in China and other places, they're going to school, 30, 35 days more than our students. If you're on a sports team and you're practicing three days a week and the other team is practicing five days a week, who is going to win more? Anybody who thinks we need less time, not more, is part of the problem," he said.
Increased learning time is an issue that has garnered support from Republicans and Democrats and has been a talking point of education secretaries for decades. Despite the support, the idea hasn't caught on as much as proponents would like.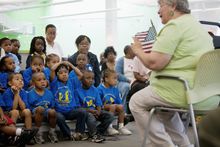 But that could soon change, thanks in large part to President Obama's plan, announced Sept. 23, to offer states waivers from the deadlines and penalties of the No Child Left Behind federal education law if they implement detailed reform plans. Many education specialists are encouraging states to make longer days and longer years a cornerstone of their proposals, which must be approved by the Education Department.
"Expanded learning time is a valuable tool for improving student achievement, as demonstrated by the schools that have implemented this," wrote Isabel Owen, a policy analyst at CPA, in a position paper supporting more time in school for students nationwide.
Breaking from tradition, however, is often a hard sell.
School administrators may be unwilling to make drastic changes to their calendar for a variety of reasons. Students would surely disapprove of the move, as it could cut into their free time each afternoon and eliminate a chunk of their summer break. Students who work could find their school and employment schedules clashing. And longer days could cut into extracurricular activities such as sports and theater.
Teachers probably would see little, if any, increase in their pay, but would work more days out of the calendar year. The extra work might lead teachers unions to demand salary increases, putting an even greater strain on cash-strapped districts and states.
In addition, some school leaders simply want things to remain just as they have been for decades, said John King, New York's commissioner of education, who also spoke at the CPA forum.
"Most people in school buildings — their starting place is how things were when they went to school. They have a set of expectations around that," he said.
Even supporters of the longer school year do not believe that every student in the nation needs more time in school. The best-performing students from the safest, wealthiest neighborhoods, Mr. Duncan said, are probably doing all right under the current system. But in poor, urban settings, he added, more time off the street and in the classroom can have positive effects beyond better grades and test scores.
"Our schools, beyond being places of learning, are places that are safe," he said.
Mr. Duncan's remarks came on the same day the Obama administration announced two initiatives to improve teacher quality. The Education Department is reducing the paperwork districts must submit every year, saying it will free up valuable time for lesson preparation and other vital tasks.