Finally, the Washington Redskins know who their starting quarterback will be Sunday when they open the season against the New York Giants. Now it's a matter of who will catch the ball.
When the Redskins cut down to this 53-man roster, they made sure to give Rex Grossman plenty of options — seven wide receivers, and that's not counting return specialist Brandon Banks. Throw in Aldrick Robinson on the practice squad, and that makes eight around Redskins Park.
"Normally, you always have eight receivers," coach Mike Shanahan said. "Anytime you have three and four wide receiver sets, you have to have a lot of legs, and sometimes you're deeper in one position than another."
Naturally, the Redskins didn't want to lose any of these players, so they wound up with a group of Santana Moss, Jabar Gaffney, Anthony Armstrong, Terrence Austin, Niles Paul, Donte Stallworth and Leonard Hankerson. But each player did something — whether it was because of reputation, practice habits, past performance or preseason performance — to make the team.
"If you go back and look at the tape, I think everybody made plays in their own way," Armstrong said. "Everybody's been doing their job, and it was a hard decision on the coaches."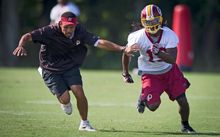 Armstrong and Moss essentially were locks based on last season and the stability they bring to the receiving corps.
Austin was arguably the most impressive in four exhibition games, making it nearly impossible that he be left off the roster.
"I definitely did say to myself that I have to have something on film if I'm not impressive enough to my coaches to make the team," said Austin, who had 11 catches for 141 yards and a touchdown in the preseason. "You are pretty much trying to work for a job all over the NFL."
It was enough to solidify a job with the Redskins despite making just three catches last year.
Hankerson made the roster more or less because he was a third-round pick, and that mitigated some growing pains and drops from camp.
"I haven't really done much," he admitted. "I guess I've done something to be on the 53-man roster, so I guess that means they see something in me."
Coaches saw something in Paul, too, as he proved his versatility in the offense and on special teams. The fifth-rounder out of Nebraska had nothing handed to him along the way but still is listed ahead of Hankerson on the team's unofficial depth chart.
Paul isn't surprised he made the team — because of the hard work he put in.
"I did everything I could," Paul said. "Wherever they put me out there — punt returns, kick returns, I was on punt blocking, I was on kickoff return blocking — I did anything I could. I feel like I put myself in the best position possible to make this team."
Likewise, Gaffney (a career-high 65 catches in 2010) and Stallworth were in a solid position to make it because they bring a veteran presence to a young group. It's vital that both can play special teams, too, but they have a specific role to help younger players.