They were once the centerpiece of the Washington Wizards, a vaunted Big Three tasked with anchoring an era of deep playoff runs and, possibly, contend for a championship.
Now, Caron Butler, Antawn Jamison and Gilbert Arenas are on different teams, with different roles and expectations. It didn't turn out the way any of them expected.
Butler found path to a title
Butler is an NBA champion, having won a ring with the Dallas Mavericks last season. This year, he's part of the resurgent Los Angeles Clippers. Along with All-Star teammates Chris Paul and Blake Griffin, for the first time in their history, the Clippers are generating as much interest out west as the Lakers. Neck-and-neck in the Pacific Division with their more accomplished rivals, the Clippers are on the rise.
Butler, 32, couldn't be happier with where his journey has taken him.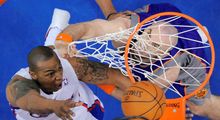 "I love the experience," Butler said. "We're one of the hottest teams in the NBA. To be a huge part of the transition process here, it's a great situation."
Butler also remembers last season fondly.
"It was special. It was a great situation for me," Butler said. But he remembers the hard times with the Wizards shortly before he was traded and regrets the way things ended in Washington.
"We were the Big Three and all that, then everybody was getting hurt," he said. "I got hurt, Gil got hurt, Antawn [got hurt] then suddenly, we're rebuilding. It was a bitter pill to swallow."
Butler doesn't see a lot of Wizards games living in Los Angeles but expressed empathy for the team's plight. He also some advice for Wizards star guard John Wall.
"I'd tell him to work on his leadership skills and remain consistent, because that's what it's going to come down to," Butler said. "Remember these times, because losing hurts. But get better every year, and you won't have to go through that for the rest of your career."
Butler speaks from the best kind of experience, that of an NBA champion.
Jamison shipped to Cleveland
The second member of the trio, Jamison, was traded to Cleveland in February 2010, and the Cavaliers made it to the Eastern Conference semifinals that year before losing to the Boston Celtics.
The following year, LeBron James left for Miami and the Cavaliers fell hard, winning just 19 games. Jamison suddenly found himself cast in the role of veteran leader on a rebuilding team. But now, the team has the likely Rookie of the Year in point guard Kyrie Irving - like Wall with the Wizards, perhaps the most important piece in the team's rebuilding puzzle.