It was pitiful, and the Washington Capitals had no answers for the longest time. They couldn't manage to win even two straight on the road from December until March.
While home success kept them afloat and in the hunt, road woes threatened playoff hopes. But in the final month, the Caps seemed to figure it out: 5-3-1 away from Verizon Center, including three victories in their final five road games — just enough to reach the postseason.
Not exactly a torrid pace, but it's something to build on as the Caps enter their first-round series against the Boston Bruins without home-ice advantage.
"We just started playing better on the road, doing right things," right wing Troy Brouwer said. "Getting pucks in, not getting ourselves in trouble, and it's paid off with some wins in some very tough buildings."
Most recently, it included a victory over New York at Madison Square Garden as the Rangers were trying to wrap up the Presidents' Trophy for most points in the NHL. It was the same arena the Caps were soundly beaten Feb. 12, a loss more lopsided than the 3-2 score indicated.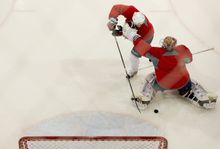 The key to Saturday's 4-1 win, as in so many road victories, was scoring first. This time, streaking Alex Ovechkin did the honors just 32 seconds in.
"Well, we got out to a great start, obviously. I think that's one of the big keys to our success, pretty much the whole season," defenseman John Carlson said. "I thought we obviously did a good job of that. You know, we clamped down, and we got great goaltending when we needed it, and that's always helpful."
All those things will need to happen if Washington wants to steal a game or two at TD Garden. Braden Holtby has victories in Detroit and New York and a solid performance in a 2-1 shootout loss to Philadelphia among his seven appearances this season.
The Capitals have two wins in Boston this season, with Tomas Vokoun and Michal Neuvirth earning the victories.
"It gives you confidence," coach Dale Hunter said. "But again, playoffs is a different season."
The last time in Boston, Washington blew a late two-goal lead and needed a shootout to nail down a 3-2 win.
"It's nice to have gone through games where we've had leads and had to protect them," forward Brooks Laich said. "Maybe sometimes if you don't protect them, experience is what you get when you don't get what you want."
Experience is nice, but the Caps need to find a way to turn it into consistency.
Roman Hamrlik, who spent four seasons with the Montreal Canadiens and played numerous games at TD Garden, knows the Capitals can't rely on a couple of victories there or recent road success.
"I don't think we should look back. We should look forward and focus for the first game Thursday night," the veteran defenseman said. "We talk about it all season, nothing really changes. We have a little bit of momentum at the end of the season, but now it's real business. I don't think we should look back; focus on Thursday night and be prepared for a big war."