Phrases such as "generationally great" permeate the Washington Capitals' organization. Don't try to talk to owner Ted Leonsis or general manager George McPhee about the window to win a Stanley Cup shutting any time soon, even though this core of Alex Ovechkin, Nicklas Backstrom, Alexander Semin and Mike Green has yet to get beyond the second round of the playoffs.
"I think we like that stability, our fans like that stability, and to be able to identify players here that have made the playoffs five consecutive years, it means we're doing something right, these players are doing something," McPhee said.
The Capitals will open the playoffs Thursday at the Boston Bruins, thanks to 10 victories in their final 16 games. But unlike years past when they've been expected to make a long run, the Capitals are now being picked by most pundits to bow out in the first round.
It's unfamiliar territory for a team used to home-ice advantage and the comforts of a seventh game at Verizon Center, but it's not something players are shying from.
"It's nice. I like that feeling of being the underdog," defenseman Karl Alzner said. "A lot less expectation, and hopefully we can surprise them a bit. They might take us a little too lightly."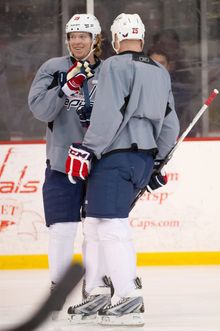 The Capitals have been on the wrong end of that the past four springs, knocked out by a lower seed each time. After winning the Presidents' Trophy for the best record in the NHL for the 2009-10 season, they lost in the first round to the Montreal Canadiens. Last year brought a second-round sweep at the hands of the division-rival Tampa Bay Lighting.
Having to fight for a playoff spot in the past couple months could be a lesson. Even Braden Holtby, the surprise playoff goalie because of injuries who has just seven starts this season, understands that.
"As weird as it's been for us, you kind of have to look at it as a positive compared to the last couple of years where the team just kind of breezed through the regular season and the problems kind of just get thrown under the rug because you keep winning," Holtby said. "This year, they were exposed. It's a good thing, and it's especially going to benefit us."
Coach Dale Hunter has been referring to everything as "playoff hockey" for more than two months. Whether it will truly be beneficial will be discovered in the coming weeks.
"We'll let you know. We're just going to go out and play and see what develops," McPhee said. "I don't know what we're capable of, but we're proud that these guys played through a tough year and we're preparing to start playing on Thursday."
The "tough year" featured the November coaching change from Bruce Boudreau to Hunter and a 40-game concussion absence for Backstrom, the center who had been cruising toward his first All-Star Game appearance.
Nothing since Backstrom's injury Jan. 3 has been easy. The Capitals struggled to find consistency in several areas of their game, especially on the road, and needed a strong finish to wrap up a fifth straight playoff berth. They've been in playoff survival mode for a while already.
"You live day by day, and you can't worry about the next game," forward Brooks Laich said. "It really simplifies your life, and that's the way the playoffs are going to be. Now it's one opponent that we can really focus on."
That opponent is Boston, which is the second seed in the Eastern Conference and, more notably, the defending Stanley Cup champion. The Bruins boast the reigning playoff most valuable player Tim Thomas in goal and six 20-goal scorers, so it's no surprise they're heavy favorites against a team that squeaked in during the final week and has a 22-year-old rookie in net.
"I think the Capitals, they're in trouble in this series. I think the Boston Bruins are going to have a relatively easy time with the Capitals," NBC analyst and former player Keith Jones said. "It's one series in the East that really stands out to me as being a short series with the Bruins ending up moving on."