BANDA ACEH, INDONESIA — Two massive earthquakes triggered back-to-back tsunami warnings for Indonesia on Wednesday, sending panicked residents fleeing to high ground in cars and on the backs of motorcycles.
No deadly waves or serious damage resulted, and a watch for much of the Indian Ocean was lifted after a few hours.
Women and children cried in Aceh, where memories are still raw of a 2004 tsunami that killed 170,000 people in the province alone.
Others screamed "God is great" as they poured from their homes or searched frantically for separated family members.
Patients were wheeled out of hospitals, some still lying in their beds with drips attached to their arms. And at least one hotel guest was slightly injured when he jumped out of his window.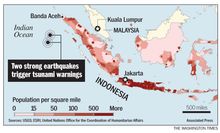 The U.S. Geological Survey said the first 8.6-magnitude quake was a shallow 14 miles, hitting in the sea 270 miles from Aceh's provincial capital.
An alert that followed from the Pacific Tsunami Warning Center in Hawaii advised countries all along the rim of the Indian Ocean, from Australia and India to as far off as Africa, that a seismically charged wave could head their way.
Two deadly tsunamis in the last decade - the most recent off Japan just one year ago - have left the world much better prepared.
Sirens sounded along coastlines and warnings spread like wildfire by mobile phone text messaging. Though often chaotic, evacuations began immediately with streets clogged with traffic, especially in Aceh.
The only wave to hit, though, was less than 30 inches high, rolling to Indonesia's emptied coastline.
Just as the region was sighing relief, an 8.2-magnitude aftershock followed.
"We just issued another tsunami warning," Prih Harjadi, from Indonesia's geophysics agency, told TVOne in a live interview.
He told his countrymen to stay clear of western coasts.
Residents in Aceh could hardly believe it.
"What did we do to deserve this?" cried Aisyah Husaini, 47, who lost both her parents and a son in the 2004 tsunami. "What sins have we committed?"