Gary Ross said he won't direct "Catching Fire," the second installment in Lionsgate's blockbuster "The Hunger Games" franchise.
In a statement Tuesday, Mr. Ross said "after difficult but sincere consideration," he decided not to direct the film. According to the Associated Press, he blames limited time to write and prep the film because of the fixed, tight production schedule.
Mr. Ross said making "The Hunger Games" was the happiest experience of his professional life. He also denied reports that negotiations with Lionsgate had been problematic.
Lionsgate officials said in response that they're "very sorry" Mr. Ross has chosen not to direct "Catching Fire," but they look forward to working with him on future projects.
"Catching Fire" is the second installment in the franchise based on Suzanne Collins' book series. It's scheduled for release in November 2013.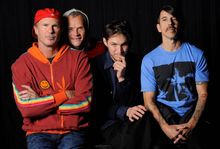 Chili Peppers, Black Keys among Lollapalooza acts
The Red Hot Chili Peppers, the Black Keys and English indie darlings Florence and the Machine will headline this year's three-day Lollapalooza music festival in Chicago, Jane's Addiction lead singer and Lollapalooza founder Perry Farrell announced Wednesday.
"Every year it's kind of a nail-biter putting a lineup together," Mr. Farrell said in an Associated Press interview. "There were moments when I looked at it and I was beside myself. I didn't know what to do."
But with the final list also including Black Sabbath, Jack White and Sigur Ros, "that lineup is just going to be so exciting and it's so diverse. I think it works so well," Mr. Farrell said.
The festival in Chicago's sprawling Grant Park begins Aug. 3.
The schedule of more than 120 bands features Lollapalooza's signature mix of mainstream headliners and indie bands. The global factor is strong with acts from across Europe, Chile, Australia and Malaysia. It also reflects American music hubs such as Austin, Nashville and Portland, spanning genres from rock to pop, hip hop and rap to electronic dance.
Bloc Party, Franz Ferdinand, the Afghan Whigs, the Shins and former "American Idol" contestant Haley Reinhart are on the bill. The full lineup is available on Lollapalooza's website.
In recent years, headliners have included Lady Gaga, Green Day, Eminem and Coldplay.
Putting together the perfect lineup has a special set of challenges, Mr. Farrell said.
"You are trying to balance a lot of things," he said. "Balance economics, there's budget — how much we can afford for talent. You're trying to balance that with who's available."