A second voice mail message from Chevy Chase leaked online Tuesday, depicting a deep rift between the veteran comedian and the creators of his ratings-challenged NBC sitcom "Community."
The show's creator, Dan Harmon, played voice mails from Mr. Chase at a Los Angeles comedy show last year. They since have found their way on to the Internet, including a recording released Tuesday by Celebuzz.com.
In the voice mail, Mr. Chase calls "Community" a "mediocre sitcom" that "is not my kind of comedy," the Associated Press reports.
"It ain't funny to me because I'm 67 years old and I've been doing this a long time," Mr. Chase says. "I've been making a lot of people laugh, a lot better than this."
Though the recordings left on Mr. Harmon's phone appear to have taken place during the show's second season, they reveal just how badly things have been for Mr. Chase and "Community." The now-68-year-old "Fletch" and "National Lampoon" star initially was meant to be the most familiar face on the show, which has generally found critical acclaim and a cultish following.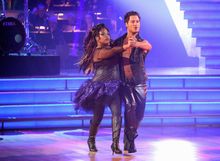 But the airing of such squabbles adds another challenge to "Community," which had its current third season delayed to midseason by NBC, and which faces an uphill battle for renewal. Last week's Thursday night episode drew 3.1 million viewers, a series low.
NBC declined to comment. A representative for Mr. Chase said the actor was also declining to comment.
Last week, Mr. Harmon wrote a lengthy apology on his Tumblr page for what he called a "horrible, childish, self-obsessed, unaware, naive and unprofessional decision to play someone's voicemail to me."
'View' co-host Shepherd eliminated on 'Dancing'
Sherri Shepherd typically is full of laughs on "Dancing With the Stars," but on the latest episode, it was tears instead.
"The View" co-host was dismissed from the ABC competition Tuesday.
Judges' scores are combined with viewer votes to determine who is ousted each week.
Miss Shepherd's eyes filled with tears when she learned she was among the lowest scorers. She said dancing on the show was a dream, and she urged viewers to tackle their fears the way she did "because it's so amazing on the other side.".
Returning to compete on next week's Latin-themed episode will be actors Jaleel White, Roshon Fegan, William Levy and Melissa Gilbert; singers Gladys Knight, Gavin DeGraw and Katherine Jenkins; TV personality Maria Menounos; and football player Donald Driver.
'Idol' tops Forbes list of TV moneymakers