WACO, Texas — Robert Griffin III and his Baylor teammates transformed Floyd Casey Stadium into a house of highlights last fall. The off-campus intersection of Clay Avenue and Williams Landing Road, about 2 1/2 miles south of Waco's modest downtown, became a top destination on the college football circuit with Griffin's athleticism fueling a dynamic offense that earned 10 wins for the team and the Heisman Trophy for its leader.
All that gloss was gone, though, as The Case sat idle, bathing in the Texas sunshine one gorgeous afternoon last month. Postcard conditions could not mask the toll 62 years have taken on her.
A weed sprouted from a seam in the steel walkway that circles the seating bowl. Three rusted folding chairs lay in one section of bleachers near the 30-yard line. Green seats near midfield appeared bleached by the relentless sun. Back inside the concourse, operating a broken door handle allowed passage to a large concrete restroom, the floor of which was partly under an inch of stagnant water.
It's no wonder, then, that plans are underway for a new Baylor football stadium. Artists' renderings of a 45,000-seat, on-campus facility on the bank of the Brazos River make it seem real enough to sense what it will feel like when Baylor's next Heisman candidate makes it his stage. And after 15 years of discussing the project, donations are beginning to stream in with hopes of completing construction in 2014.
There are many measures of how Griffin and coach Art Briles helped revive Baylor's football program since they arrived together more than four years ago, but none is as resounding the stadium project's nascent progress. As the Washington Redskins target Griffin with the second pick in next week's draft, it symbolizes the quarterback's potential to turn around a woebegone franchise that hasn't won a division championship since 1999.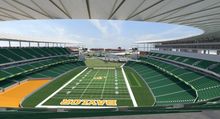 "For us to watch it grow since we've been here, we can't put that into words," Griffin said at Baylor's pro day last month. "New facilities, new jerseys every couple of years. It's been amazing to go out and win 10 games, get a Heisman, win a bowl game.
"When I got here, the fans expected us to win, and we had two seasons that weren't conducive to doing that. But we turned it around, and I was proud of that. When I go to the next level, obviously we want to do it a lot faster."
Lean times before Griffin
Nick Jean-Baptiste walked on to the Baylor football team in the year 1 B.RG3. Those were dark times.
The Bears were a doormat of the mighty Big 12 Conference until as recently as two seasons ago. They won only 14 conference games from Big 12's inception in 1996 through 2009.
"It was just awful back in the day five years ago," said Jean-Baptiste, a second-team all-conference defensive tackle. "People [on campus] were wearing A&M stuff, Texas stuff. They didn't care because nobody really cared about Baylor."
The scorn stung Griffin upon his arrival in the spring of 2008.
"It's not an experience that everybody wants to go through, when you walk into class and teachers are making fun of you," he said at the scouting combine in February.
Griffin embraced the challenge, though, and, as it turns out, was perfectly suited to conquer it. He first committed to the University of Houston, where Briles was head coach, but he followed when Briles left to take the vacant Baylor job late in 2007.
"He and I both shared the same vision," Briles said. "When I first got here, I wanted people that were mavericks, people who were willing to go down a different path and believed in themselves and wanted to do things that other people didn't think could be done. That's what motivates competitors. That's what I am, and that's what Robert is."