PARIS (AP) — Neck and neck in the polls just one week before France's presidential election, the leading candidates rallied tens of thousands to separate events Sunday to outline two very different visions of the future.
On the iconic Place de la Concorde in the posh western side of Paris, President Nicolas Sarkozy appealed to his supporters' patriotism, invoking France's history and the names of past leaders such as Napoleon and Charles de Gaulle. Painting a picture of a country that suffers without complaint, the conservative played up his own leadership experience as vital to confront an economic crisis and to maintain France's global status.
On the edges of Paris' working-class east, Socialist contender Francois Hollande told supporters that France needed nothing short of a top-to-bottom change. In a dig at Mr. Sarkozy, who has been seen as too close to the rich and too fond of free-market economics, Mr. Hollande promised to be a president "stronger than the markets, stronger than finance."
While most polls show the first round on April 22 is too close to call, they have Mr. Hollande ahead in the decisive May 6 runoff.
Mr. Sarkozy has dismissed such polling in recent weeks and again on Sunday. He began his speech by joking — "They thought you wouldn't come!" — but his message and tone seemed clearly aimed at rallying troops for a tough battle.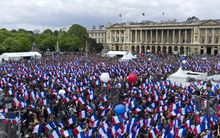 He promised to take the necessary measures to create a state that "rejects the drug of public expenditure," a reference to his commitment to balance the country's budget by 2016.
He hailed the reforms his government had made as protecting France from the worst of the global recession and the European debt crisis, but he insisted now was not the time to give up the fight — and an experienced leader was needed to continue it.
Mr. Hollande, for his part, nearly shouted himself hoarse in hammering home his message of the need for change.
"Why continue what has failed? Why continue going in the wrong direction? We must turn the page," Mr. Hollande said. "France is not bankrupt; it is its leaders who are bankrupt."