Martha Stewart is taking her cookware to PBS.
The media maven will serve up what is being described as a culinary master class: "Martha Stewart's Cooking School." According to the Hollywood Reporter, the weekly series, which is inspired by her eponymous best-seller, is set to premiere this fall in association with PBS station WETA in the District.
"Cooking School's" half-hour episodes will feature Miss Stewart as she demonstrates her classic techniques to prepare dishes including a pot roast and a whole fish.
The news comes just weeks before Miss Stewart's daytime program wraps its run on the Hallmark channel in May. "The Martha Stewart Show" will continue to air in reruns through the summer, but the cable network declined to renew it in light of its steep price tag.
'Horror Story' creator reveals season two details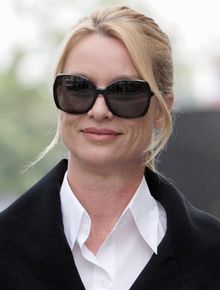 What "American Horror Story's" second season will look like is beginning to come into focus as co-creator Ryan Murphy revealed where — and when — the sophomore year of FX's horror anthology series would take place.
After its freshman season ended with the deaths of its two lead characters, played by Connie Britton and Dylan McDermott, the drama will be rebooted as an anthology series and feature a new cast, location and premise, according to the Hollywood Reporter. While first-season cast members Jessica Lange, Zachary Quinto, Evan Peters, Sarah Paulson and Lily Rabe will return, they'll be playing different characters from the ones they embodied in the first year of the FX series.
"[Season two] is set on the East Coast at an institution for the criminally insane that is run by Jessica," Mr. Murphy said Wednesday during a panel promoting the series at the TV Academy in North Hollywood.
In addition to the East Coast institution for the criminally insane, the second season also will find the cast in a new era, Mr. Murphy said. "It's a completely different world and has nothing to do with season one; there's not a mention of season one," he noted. "The second season is set in a completely different time period."
In addition to the five returning cast members, Mr. Murphy teased that there could be more familiar faces from season one set to take on new characters when the series returns in the fall.
Judge won't dismiss 'Desperate Housewives' suit
A judge has refused to dismiss Nicollette Sheridan's lawsuit over the demise of her role on "Desperate Housewives."
City News Service said Los Angeles Superior Court Judge Elizabeth Allen White urged the parties Wednesday to continue settlement talks, but set a new trial for Sept. 10, the Associated Press reports.
A jury deadlocked 8-4 in favor of Miss Sheridan's claim after a trial last month. She sued ABC/Disney and series creator Marc Cherry for $6 million for wrongful termination after her character, Edie Britt, was killed off in a 2008 episode. She seeks punitive damages.
Miss Sheridan claimed her role was eliminated because she complained that Mr. Cherry struck her in the head during an on-set dispute. Mr. Cherry said he merely tapped her on the head for artistic direction and the character's death was a creative decision.