It was not a pleasant sight Sunday in Toronto, seeing Washington Wizards forward Trevor Booker and center Nene sitting on the bench wearing walking boots. Booker and Nene have the same injury, a pulled ligament in the left foot, technically known as plantar fasciitis.
Both players were hurt in the Wizards' 97-76 win over Philadelphia on Friday.
"I'll be fine, but I need to live day-by-day," Nene said. It's an injury that also gave him trouble when he was with Denver.
Forward Rashard Lewis hasn't suited up since before the All-Star break because of a bone bruise on his left knee. He is treating the condition with Synvisc shots, but there is no timetable for his return.
Andray Blatche also is on the inactive list along with Lewis after missing five weeks with a left calf injury. He returned to the lineup in early March and played in nine games, but it soon became clear that his inability to do any conditioning work while sidelined left him out of basketball shape.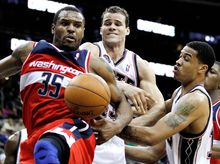 The outbreak of injuries leaves coach Randy Wittman with very few options.
"We don't have a lot of bodies that I can do a lot of different scheming with," Wittman said after the Wizards' 99-92 loss to the Raptors, the first game with Nene and Booker both sidelined, although each has missed games separately.
With a little less than a month to go in the regular season, the Wizards, like a lot of teams at this time of year, literally are limping to the finish line.
The Wizards have added a couple of healthy bodies to get them through the final weeks. Edwin Ubiles was signed to a 10-day contract from the Dakota Wizards of the NBA Developmental League in mid-March. After his deal ended, the Wizards brought up Cartier Martin on March 28, also on a 10-day contract.
Martin played for the Wizards last season and already was familiar with the team. He led all scorers with 20 points in the Wizards' win over the 76ers on Friday.
Wittman calls this time of the year a juggling act.
"We try to change things, put guys in positions where they have to adjust," Wittman said. "We'll have to go small some; I don't have very many bigs to have a big lineup, but we'll put people out there that know what to do."
Jordan Crawford chose to look on the bright side of having a depleted roster.
"It gives other guys a chance to show what they've got," Crawford said. "It can be a fun time. People count you out, then you pull out the win, and you feel that much better."