A prolific campaign donor under federal investigation for contributions in D.C. elections is also linked to a quarter-million dollars given to Maryland politicians, including Gov. Martin O'Malley, two likely Democratic candidates for governor in 2014 and two prominent county executives over the past 13 years.
Mr. O'Malley, Lt. Gov. Anthony G. Brown, Comptroller Peter V.R. Franchot, and Montgomery and Prince George's County Executives Isiah "Ike" Leggett and Rushern L. Baker III, have received contributions from a network of donors affiliated with Jeffrey E. Thompson in a similar pattern to political contributions made in the District.
The donations often involve the maximum allowed amount, are usually made on the same day and come from Mr. Thompson, his companies, his affiliates and associates. People and companies within the Thompson network have made contributions to a wide range of Maryland candidates totaling upward of $268,000 since 1999, according to campaign finance records.
Federal agents raided Mr. Thompson's home and offices and that of his longtime spokeswoman, Jeanne Harris, in March.
The investigation seems to be contained to the District — where six D.C. Council members' offices have confirmed receipt of subpoenas requesting campaign-finance records related to Mr. Thompson, his associates and business ventures.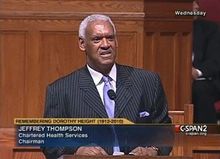 Mr. Thompson, a businessman whose company, D.C. Chartered Health Plan, won hundreds of millions of dollars in business from the District, provides managed care services to city Medicaid patients, as well as other low-income residents enrolled in the city-funded D.C. Healthcare Alliance plan. He also headed the high-powered accounting firm Thompson, Cobb, Bazilio & Associates, which has headquarters in the District and offices in Maryland, Georgia, Pennsylvania, Connecticut and California. WAMU-FM reported last week that he resigned from the firm.
Mr. Thompson has not been accused of any wrongdoing, and the practice of organizing contributions from companies, employees, their families and affiliated firms — called "bundling" — is not illegal.
Campaign finance analysts have speculated that federal investigators could be attempting to determine whether any contributors were reimbursed for their donations, or used as "straw donors," in what would be an illegal scheme to evade campaign-finance limits.
Brendan Sullivan, an attorney for Mr. Thompson, has declined to speak about the investigation, writing in an email that he doesn't comment on matters related to clients.
Martin O'Malley
Mr. O'Malley took in tens of thousands of dollars in campaign contributions from Mr. Thompson's network on Sept. 22, 2010, in the midst of a re-election bid against Republican Robert L. Ehrlich Jr.
The Washington City Paper first reported that on a single day Mr. O'Malley received 18 contributions of $4,000 each — the maximum campaign donation allowed per candidate — from associates of Mr. Thompson.
An analysis of campaign-finance records by The Washington Times concluded that at least $74,200 out of the approximately $98,000 in donations that Mr. O'Malley collected on that day came from Mr. Thompson's co-workers, associates and affiliated companies.
That figure does not include donations made on other days to Mr. O'Malley's campaign by people in Mr. Thompson's network, including Mr. Thompson's own $2,000 donation in 2009, the $4,000 contributed by his accounting firm or $4,000 contributed by D.C. Healthcare Systems, which Mr. Thompson also owns. Nor does the figure include a $2,000 donation given by Albert Lucas, a principal at Thompson, Cobb, Bazilio & Associates, and $1,000 given by Joe Lowry, the chief financial officer at D.C. Chartered Health Plan, a subsidiary of D.C. Healthcare Systems, that were given on the same day.
A comparison of the names on a D.C. Council member's subpoena shows Mr. O'Malley has received donations from seven of the 10 people or businesses listed on the subpoena.