Sirens and the sounds of highway traffic, airplanes and helicopters pierce the quiet calm of the Anacostia River, as the D.C. Fisheries boat cruises under a railroad trestle, across the District line into Maryland.
Near Dueling Creek, supervisory biologist Daniel Ryan gooses the engine to prime a water pump that fills a tank in the center of the 18-foot Smith Root Electrofisher. The boat is outfitted with a raised platform on the bow and a pair of probes that lower into the water to create a current to lure and immobilize fish for easy catch.
Luke Lyon, a fisheries biologist who works under Mr. Ryan at the D.C. Department of the Environment (DDOE), directs him to a tangle of logs and rocks near the west bank where he expects to find the invasive snakehead fish.
Within 30 seconds, Mr. Lyon has netted a blue catfish, a snakehead, a goldfish and a largemouth bass, which he will measure, weigh and later release.
"We hit one log for 30 seconds and get four non-native species of fish," Mr. Lyon says as he dips the 11-pound snakehead back into the tank.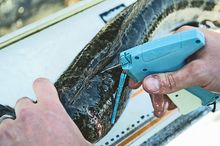 A comparison of the digestive tracts of these meddlesome critters leads to a discussion of a project Mr. Lyon has designed. It involves gutting specimens to study what the fish eat and how contaminated they have become.
For these city biologists, it's an important sort of government work that goes largely unnoticed. Yet as the D.C. government seems bogged down with the dirt and taint of political scandal, DDOE, six years after its creation, is at the forefront of a national discussion about making urban areas cleaner.
Here on this stretch of river, roughly 6 feet deep, 150 yards wide and within sight of a maze of government buildings, politics seems trivial. Farther upriver, Mr. Ryan guides the craft past Langston Golf Course and into a shallow marsh toward Kenilworth Aquatic Gardens, behind a piece of land that used to house a city dump.
In a small sign of progress, the area now is home to ducks, Canada geese, beavers and turtles, and one of them — a turtle, a beaver? — causes a sudden splash that sounds like a body falling overboard.
"The river looks good today," Mr. Lyon says. "We haven't had any rain and there's no trash."
Mr. Ryan, who also is accompanied this warm and sunny day by supervisory environmental protection specialist Nicoline Shulterbrandt, mentions another sign of progress, a DDOE-assisted project with the U.S. Fish and Wildlife Service (USFW) to study liver tumors and measure contaminants in bullhead catfish.
The joint study found that water quality improvement projects over the past decade have led to a decrease in numbers of infected fish and size of the tumors, Mr. Ryan said.
"It's not just fisheries science, because now we're looking at it in terms of stormwater runoff and water quality," he said. "That's unique that we've integrated it into the bigger picture. It's trendsetting, and [others] are going to follow us."
"People don't realize what a gem we have right here outside our backdoor," Ms. Shulterbrandt added.
Still, there's no doubt the river remains far too dirty. Government warnings state that the city's waters are not fishable or swimmable because of a legacy of pollution and toxics. Asked whether he would eat any of the fish he routinely catches and studies, Mr. Lyon doesn't hesitate: "I would not."