Washington Wizards coach Randy Wittman tried to give the benefit of the doubt to the visiting Charlotte Bobcats shortly before Monday night's game at Verizon Center.
Wittman believed it would be a tough game, with the Bobcats trying to avoid the worst winning percentage in the NBA since the 1972-73 Philadelphia 76ers' infamous 9-73 season.
Wittman was right, for about 12 minutes. The Bobcats managed to keep the game close during the first quarter, but the Wizards pulled away after that and never looked back en route to a 101-73 win. The Wizards have won four in a row to improve to 18-46. Charlotte lost its 21st straight game, dropping to 7-57.
"This is another step for our team," Wittman said. "Leading into a game like this with a team that's struggling, to go out and take care of business right from the start is a sign of some growth that I'm really happy about. I was more nervous about this game than I was about any game in the last month.
"You don't ever want to give a team that's struggling an opportunity to breathe, and right from the start I thought our guys were into the game, and were going to try to jump on them like they did."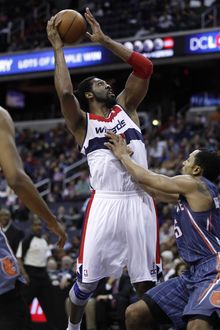 It was an especially strong outing for the tandem of John Wall and Nene, a point guard and center who are using these final few games to develop the kind of chemistry that will serve them well next season.
"It's just something to look forward to," Wall said. "We just have to add a couple of pieces, but we know what we have on this team and how we can play when we play together. They key is we're playing as a team."
Wall thinks the reason for the late season surge is obvious.
"[Nene's] been the key," Wall said. "He's somebody that can score in the low post, pass the ball and is constantly talking to us." He's been a leader and helping me out with a lot of things, telling guys where to be in different situations."
With no playoffs this season, Nene could have continued to sit out the final games of this difficult season, after missing 10 games with plantar fasciitis in his left foot. However, he said he wanted as much playing time as possible with his new Wizards teammates, especially Wall.
Wall found Nene — along with the rest of his teammates — for 14 assists, and added 16 points. Nene hit his first five shots and finished with 18 points to lead the team in scoring.
But Nene refused to take all the credit for the four-game winning streak, and the Wizards' late-season improvement.
"I'm not the key," Nene said. "Who's the door if I'm the key?" Nene joked.
It was also a stellar night for Jan Vesely, who had a career-high 16 points, and was the second rookie in franchise history to go 8-for-8 from the floor. The other was Mitchell Butler on Jan. 13, 1984.
The Wizards have had their way with the Bobcats this season, winning all four meetings by double-digit margins.