The latest saga of a popular role-playing video-game series for the PC has been adapted for Microsoft's entertainment console and plunges a single player into a subversive, Tolkienesque universe in The Witcher 2: Assassins of Kings, Enhanced Edition (Warner Bros. Interactive Entertainment and CD Projekt RED, rated M for mature, reviewed for Xbox 360, $59.99).
Based on the book series by Polish author Andrzej Sapkowski, this "Game of Thrones"-style extravaganza will pleasantly exhaust the patience of the average gamer with its complexities but will impress the committed fantasy lover as he is caught up in a power struggle within the lands of Temeria.
Anyone who has survived such genre-shaking franchises as The Elder Scrolls, Final Fantasy and Mass Effect will appreciate the amount of meticulous minutiae required to successfully manage our magic-infused monster slayer, Geralt of Rivia (a silver-haired hero with glowing eyes who mixes the stature of 1980's Christopher Lambert and fire of Hugh Jackman), as he undertakes a wide variety of nonlinear quests.
I'll admit that this is my introduction to the powerful hero and, although it took hours and hours to command his skills, I certainly was impressed with his prowess with both standard and silver swords (silver for creature battles) and his ability to target enemies by unleashing a short list of attacks and a potent package of powers.
Specifically, players use such items as daggers, bombs and traps (which are really fun to watch go off) and also can access a combat wheel that provides quick use of magic such as a Jedi-style Force push, a protective shield (highly recommended), flame attacks, a charm to turn an enemy into ally and an immobilization spell.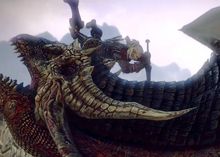 Most important is the Medallion that, when energized, sends out a radarlike ping that causes nearby items to glow and vibrates around power sources and monsters, easily identifying them for collection or battle.
After a beautiful computer-animated cut scene opens the game, a player knows he is in for something special as, within the first hour of action, he finds himself caught in the middle of a brazen assassination, near single-handedly pulls off a castle siege and handles a face-to-face encounter with a ferocious dragon.
What stands tall throughout the varied conquering of missions is the time-sucking immersion into a mature world filled with chatty and entertaining characters, such as the elven Iorveth and sorceress Triss Merigold.
The ensemble will, at points, shock through occasional flashes of soft-core encounters with lovely lasses and avalanches of profanity delivered by nearly every male that will crush the puritan ear. I would expect nothing less from this medieval collection of rascals and rogues.
Of course, being stuck in a role-playing genre, look for plenty of opportunities to collect, steal and trade items (from herbs to cloth and wood to metals) and feel constantly overwhelmed by accessing pages of menu resources to manage mutagens, alchemy, potions, clothing and weaponry along with the branching upgrades to level up Geralt.
Additionally, our stoic hero can find himself wrapped in conversations that will shape his story and personality and can lead to quests, such as helping a drunken troll solve the murder of his mate, blowing up necrophage nests, collecting mucus from a giant beast, and arm-wrestling multiple opponents to win some coins.
I'll admit there's a certain level of frustration to be had while wandering around towns and locations looking for murky objectives — even with help from a map and quest targeting. However, life is never boring for our Witcher.
Overall, the Witcher 2: Assassins of Kings dazzles and clearly brings a bloody, violent and dark fantasy world to life through plenty of rich game play, a dense collection of creatures and characters, and some enjoyable combat.
Just be aware that ye who bonds with Geralt will find little time for real-life trivialities (including eating and sleeping) while stuck in the plot-twisting throes of Temeria.
Note: The Enhanced Edition features the two game discs, presenting four hours of extra game play, content from nine previously released downloadable content packs, an enemy wave mode (to hone combat against waves of opponents) and a highly difficult Dark Mode, and a third disc containing Adam Skorupa and Krzysztof Wierzynkiewicz's musical score. The package includes an 82-page Quest Handbook (crucial reading for the beginner) and a hard-copy color map of the Northern Kingdoms.