For two decades, Viola Drath and her husband, Albrecht Muth, lived among the relatively secluded houses on a quiet Northwest Washington street.
It wasn't until police threw open the door of the cream-colored Q Street home on a hot night in August that the eccentric — and at times abusive — life of the bizarre couple was thrust into the spotlight.
Drath, 91, was found dead in a bathroom. Her husband of 20 years, a German man about half her age who often dressed in military garb and presented himself to acquaintances as a secret agent or a diplomat, was taken into custody and charged in connection with her killing.
On Wednesday, Mr. Muth, 47, is scheduled to appear in D.C. Superior Court for his second mental health update. Court papers filed ahead of the hearing say that doctors who talked with Mr. Muth last week concluded that he is not competent to stand trial.
The widower was admitted to St. Elizabeths Hospital on Feb. 15 after he started a lengthy hunger strike and told officials he communicated with angels. He also attempted to fire his attorneys so he could represent himself.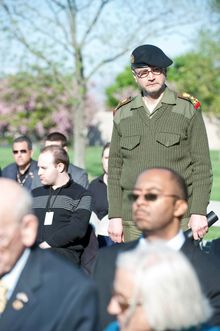 Court documents filed last month quoted the chief executive officer of St. Elizabeths suggesting that Mr. Muth could be faking his bizarre behavior to avoid prison time. The subsequent filing quotes test results that suggest Mr. Muth understands the charges he is facing and the potential penalties, but that he lacks a rational understanding of the proceedings. He continues, for example, to insist that Drath was killed by agents of the Iranian government.
Those who knew the couple said they remember a man just as odd in his Georgetown home as he is behind bars. Some could only hazard a guess as to why a woman known for her proud and energetic demeanor would tolerate and marry such an eccentric man. Many agreed that, regardless of the reasons that brought the two together, the marriage would be Drath's downfall.
"When you saw this guy, Doctor Strangelove comes to mind," said Laura Bowling, a neighbor who lives directly across the street from Drath's home. "The sad part is, this was a fine woman, but her legacy will go into the annals of the bizarre."
'Overwhelmed' by him
A native of Germany, Viola Drath began a career in journalism in Nebraska, working as a correspondent for the German paper Die Weltpost and for KUON-TV in Omaha.
When her first husband, Col. Francis S. Drath, was appointed deputy director of the U.S. Selective Service System in 1968, she moved with him to Washington. From 1975 to 2002, she worked as a foreign correspondent for the Handelsblatt financial daily newspaper of Germany.
She was known for her contributions to the German unification process and her analysis of postwar foreign policy between the United States and Germany.
Drath worked in Washington as a journalist and college professor. She wrote several books and authored dozens of columns over a span of two decades for the commentary pages of The Washington Times. She reportedly married Mr. Muth, also a native German, in 1990, four years after the death of her first husband, to whom she had been married for nearly 40 years.
"I think she was lonely," said Kevin Chaffee, senior editor of Washington Life magazine and former society editor for The Washington Times.
"She was a very elderly lady, very generous and charming. Then there was this guy who was like an albatross around her neck."