In a move to inject new life into its kookiness, "30 Rock" is going live this week.
It will be the second such outing for the NBC comedy, which is normally a polished, single-camera filmed affair. It went live for a night in October 2010 with an episode performed during the show's normal time slot, then re-staged for West Coast viewers.
The same plan will be followed Thursday: Originating from NBC's Studio 8H (the fabled home of "Saturday Night Live"), "30 Rock" will air live for viewers in the Eastern and Central time zones at 8:30 p.m. EDT, then be reprised at 8:30 PDT for the rest of the country.
The theme of the episode plays into the idea of Live vs. Filmed. The Kabletown corporate bosses announce they will no longer pay for live production of "TGS" (the fictitious show-within-a-show produced by Liz Lemon, played by "30 Rock" creator Tina Fey). After first resisting, Liz and NBC exec Jack Donaghy (Alec Baldwin) realize their lives would be simplified by shooting "TGS" episodes on film, fast and cheap.
"30 Rock" could use a little excitement. Although highly acclaimed and richly awarded during its six seasons, it has begun to lose the comic edge that set it apart. And while it was never a ratings juggernaut, it has seen its audience further soften this season (just 3 million viewers tuned in last week).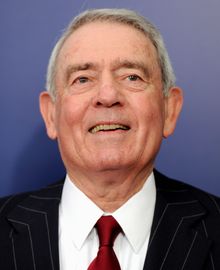 A stunt such as going live is one way to score renewed attention and, perhaps, a boost in viewership. In TV, a live show is a favorite way to shake things up.
"The Drew Carey Show" aired a live, improv-laced episode in 1999. Two years before that, "ER" staged an ambitious live hour of that medical drama.
"Will & Grace" kicked off its season in September 2005 with a live episode whose guest star was none other than Mr. Baldwin.
- Associated Press
Dan Rather: Lawsuit against CBS was worth it
Retired CBS anchorman Dan Rather says his lawsuit against his former network was worth it, even though the $70 million breach-of-conduct case was rejected by New York courts.
In his new book, "Rather Outspoken," he said the case forced some of the "ugly truths" about CBS into the open. The longtime CBS newsman left the network acrimoniously after a discredited 2004 report about President George W. Bush's military service.
Mr. Rather's book is due out Monday.
Mr. Rather wrote that the lawsuit "took a big whack out of my time, my psyche and my bank balance, but even so, it was worth it."
He said his wife, Jean, had even advised against suing. She thought it wouldn't be prudent but agreed to support him no matter what he did.