During his five decades in comedy, impressionist Rich Little has performed in glitzy Las Vegas casinos and backwater Canadian nightclubs, on television and in films, before intoxicated hecklers and dignified heads of state.
For sheer degree of difficulty, he said, one venue stands out.
"The White House [Correspondents' Association] dinner is probably the hardest show I've done in my entire career," said Mr. Little, 73, who headlined the event in 1985 and 2007. "Absolutely. You have to be political and take a few jabs. But you can't be too strong. And if you don't come on strong, they say you're doing your Vegas act. It's kind of a no-win situation."
Mr. Little paused — only not to deliver a punch line.
"Every time I hear who is going to be on, I think, 'Good luck,'" he said. "I hope they know what they're getting into."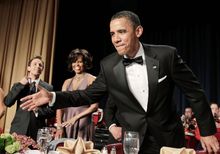 This year's human sacrifice is late night talk show host Jimmy Kimmel, who headlines the 2012 White House Correspondents' Association dinner at the Washington Hilton on Saturday night.
Crack a few jokes. Mingle with Hollywood (George Clooney, Uggie the dog) and the Washington power elite (reporters, congressmen, military brass, assorted undersecretaries of something or other). Shake hands with the president.
In theory, the star-studded annual dinner is a plum gig, a once-in-a-lifetime chance for comics to enhance their national profiles and gag writers to put material in the mouth of the world's most powerful person.
In reality, it's a nerve-wracking, sweat-through-your-tuxedo pressure cooker for comics and presidential joke penners alike. Off-color and ill-advised jokes can result in national controversy; political cracks can touch off outraged partisan food fights.
Infamous case in point? In 2006, Stephen Colbert delivered a withering roast of President George W. Bush — offending the administration's backers, delighting its detractors and touching off a media firestorm … all because Mr. Colbert essentially stayed in character, offering the same satirical send-up of a cocksure, un-self-aware conservative talk show host that he does on television.
"When they booked Colbert, I'm not sure they really understood what he was going to do," said Mike Larsen, who has written for HBO's "Real Time" and once worked for Rep. Jackie Speier, California Democrat. "I don't think people in the room knew where he was joking and where he wasn't. And he went pretty far.
"But that's Washington. The politicians from both parties all want to appear hip, have some cutting edge performer, and then being politicians, distance themselves from every joke that wouldn't even raise an eyebrow at a late night comedy club. They want the rock concert T-shirt, but don't want to have to stand near the speakers."
From afterthought to tightrope
First held in 1920, the correspondents' dinner has morphed from a largely unremarkable, inside-the-Beltway evening of politicians and the media letting their collective hair down over a few yuks — and a few too many drinks — into a full-fledged celebrity circus-cum-presidential comic rite of passage.
In 1975, for example, President Ford lampooned his clumsy image by spilling tableware into the lap of comedian Chevy Chase, a clever inversion of Mr. Chase's famous portrayal of Mr. Ford as a klutz. And that was enough. At least at the time.