SAN ANTONIO — Tony Parker scored 28 points and the San Antonio Spurs won their first playoff opener in four years, beating the Utah Jazz 106-91 in Game 1 of their first-round series Sunday.
Tim Duncan added 17 points and 11 rebounds, helping the Spurs dodge another early playoff letdown. Despite boasting the No. 1 seed again, San Antonio hadn't won a Game 1 in its past six postseason series — including the one that began a shocking first-round ouster last year.
"I think everybody knows what happened last year," Parker said, referring to San Antonio's ouster by eighth-seeded Memphis. "Everybody's motivated this year, but we don't even talk about it."
Paul Millsap led Utah with 20 points. The Jazz hung close until the third, when the NBA's top 3-point shooting team began burying Utah with three in a two-minute burst to finish the quarter.
The Spurs have won 11 in a row.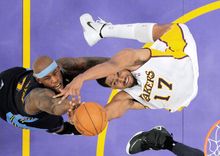 Game 2 is Wednesday in San Antonio.
Gordon Hayward scored 17 points and Al Jefferson had 16 for the Jazz. It was Utah's first playoff game without coach Jerry Sloan since 2008, but the younger Jazz couldn't take advantage of their bigger frontcourt.
The Spurs hadn't won a playoff opener since beating Phoenix in double-overtime in 2008.
Center Tiago Splitter sprained his left wrist and didn't return after scoring four points in eight minutes. The severity of the injury wasn't immediately known, but even with arguably the deepest Spurs team in the Duncan era, San Antonio would sorely miss their 7-footer.
Parker shook off a slow start to shoot 10 of 19 from the floor. He also had eight assists in his best playoff game since scoring 43 against Dallas in 2009.
Lakers 103, Nuggets 88
LOS ANGELES — Kobe Bryant scored 31 points, Andrew Bynum posted the Lakers' first playoff triple-double in 21 years with an NBA postseason record-tying 10 blocked shots, and Los Angeles controlled the tempo in a playoff-opening victory over Denver.
Bynum, the Lakers' All-Star center coming off his best regular season, also had 10 points and 13 rebounds while incredibly blocking 11 percent of the Nuggets' 90 shots.
While Bynum had the Lakers' first playoff triple-double since Magic Johnson in the 1991 NBA Finals, fellow 7-footer Pau Gasol added 13 points, eight rebounds and eight assists for the playoff-tested Lakers, who never trailed while forcing the NBA's highest-scoring team to play Los Angeles' preferred half-court style.
Game 2 is Tuesday night.