The African child soldier drama "War Witch" won best film and its 15-year-old star earned best actress Thursday night at the Tribeca Film Festival.
Tribeca announced its winners as the 11th annual edition of the New York festival wound down to its Sunday close.
Montreal filmmaker Kim Nguyen shot "War Witch" in the Congo, where his young lead, Rachel Mwanza, was previously living on the streets. Rachel, who earlier won best actress at the Berlin Film Festival, plays a pregnant teenager swept up in an unspecified revolution.
"I realized quickly that she has an immense talent," Mr. Nguyen said in an earlier interview. "When I asked her how she does it — how she bursts out in laughter, how she starts crying so normally — she just told me that she thinks of her past."
Best actor was given to both Dariel Arrechada and Javier Nunez Florian, who star in Lucy Mulloy's "Una Noche." The film is about Cuban teenagers, struggling in poverty, who decide to flee to Florida.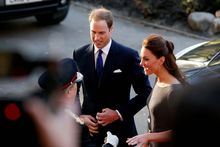 It's a fiction that became reality when Mr. Nunez Florian and another actor from the film, Analin de la Rua de la Torre, disappeared in Miami en route to Tribeca from Havana. They are presumed to have defected from their native Cuba, where the film was shot.
"Una Noche" also won best cinematography for Trevor Forrest and Shlomo Godder's photography, and Ms. Mulloy was cited as best new narrative director.
Prince William, Kate mark 1st anniversary
With her first wedding anniversary just past, the former Kate Middleton's transformation into a highly regarded member of the royal family is essentially complete.
She is now the Duchess of Cambridge, a striking woman who is comfortable speaking in public, going to charity events with husband Prince William or having tea with Queen Elizabeth II, her grandmother-in-law.
But the best times seem to be the quiet moments — walking the wilds of North Wales with William and their black cocker spaniel puppy, Lupo.
"The main point is that they look as if they're enjoying themselves," said Ingrid Seward, editor-in-chief of Majesty magazine, in an Associated Press interview. "The first year of marriage is difficult for everybody and they've adapted to their role admirably."
Ms. Seward said she believes the royal couple, who started off as college buddies before a romance developed, have benefited tremendously from their long, solid friendship. The first year of their marriage has been largely free of controversy.
"They were together a long, long time and maybe this is a demonstration of how much it helped for them to be the friends that they are," she said.
Kate and William planned to celebrate their first anniversary on Sunday in private, palace officials said.