D.C. Council member Vincent B. Orange went to bed on Tuesday with a razor-thin lead over his nearest challenger, leaving a few thousand uncounted absentee ballots to determine his fate as a city lawmaker.
Voters will not know until April 13 if Mr. Orange's 21,184 citywide votes will be enough to stave off Sekou Biddle, who obtained 523 fewer votes than the incumbent after trading the lead multiple times as results trickled into the city's Board of Elections and Ethics at Judiciary Square.
On that day, the elections board will count up the ballots it received back from voters — 1,900 as of Tuesday out of 3,790 sent out — and a number of provisional and curbside ballots from election day.
Four other incumbent D.C. Council members will fight on to November's general election, scuttling the notion that primary voters would punish them for ethical lapses that shrouded city hall for the past year.
Former Mayor Marion Barry added to his legacy by slamming his Democratic competition in the Ward 8 race for council member, securing 72 percent of the vote while each of his four opponents failed to reach 9 percent.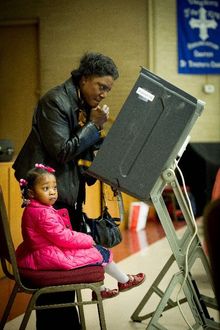 Council member Muriel Bowser, Ward 4 Democrat, cruised to an easy victory over five party opponents with 65 percent of ward voters, and council member Yvette M. Alexander, Ward 7 Democrat, obtained almost 42 percent of the vote in her ward while challengers Tom Brown and Kevin B. Chavous split up valuable votes at 22 percent and 21 percent, respectively.
Ms. Alexander still will have to win in November against Ron Moten, who took home the Republican primary in Ward 7 with 61 votes to Don Folden Sr.'s 26.
The vote followed the script that challengers in each race feared, watching the incumbents run away with the nominations as they were left to eat away at each others' base and fall short of victory.
Mr. Orange, at-large Democrat, had re-joined the council in April 2011 by defeating Mr. Biddle, then an interim council member, and several other opponents in a special election.
On Tuesday, the dueling pair was joined by Democratic challengers Peter Shapiro and E. Gail Anderson Holness, who appeared to play the role of spoilers as Mr. Shapiro took a chunk of would-be Biddle support in Northwest and Ms. Holness might have chipped away at Mr. Orange's tally in the eastern wards.
The District had almost 380,000 registered voters — including about 345,000 Democrats — who were eligible to cast ballots in the city's closed primary, meaning voters could only pick candidates from the party in which they were registered. About 58,000 turned out for the partisan elections. With about 75 percent of voters registered as Democrats, primary races in the District are often more important than general elections.
Council member Jack Evans, Ward 2 Democrat, has no opponent this year, so he handily secured the nomination Tuesday and is virtually assured of gaining another term to become the longest-serving council member in D.C. history.
It remained to be seen whether voters might hold council members accountable for ethical lapses and a federal investigation into one of the city's top political donors, Jeffrey E. Thompson, who has given to all but one of the city's council members and faces questions about contributions. No one has been accused of any crimes.
"I'm paying attention to all the issues that have been raised," Northwest resident Blanchita Porter said outside her Takoma polling place. "The process of review is being handled."
For others, the primary was a chance to express dissatisfaction with incumbents' performance.