Maryland primary voters turned out in expectedly low numbers Tuesday to select a GOP presidential candidate and choose Democratic and Republican nominees for this fall's U.S. Senate and House races.
GOP voters in the majority-Democratic state chose from a list of presidential candidates including Republican front-runner Mitt Romney as well as Rick Santorum and Newt Gingrich.
The state Board of Elections was not scheduled to release results or turnout figures until after polls closed Tuesday night, but campaign workers and voter-precinct officials said throughout the day that traffic was typically light with few lines to speak of.
They said the low numbers were not surprising for a primary election, particularly one in which the state's Democratic majority does not select a presidential candidate.
"This is a very good precinct. We [ordinarily] have people lined up at the door. This morning, there was only one person," said Barb Christine, chief precinct judge at Orchard Grove Elementary School in Frederick.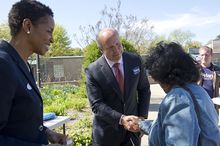 Though parking lots were half-empty at many polling places, campaign signs of all shapes, sizes and colors were on display. Campaign workers distributed fliers for their favored candidates, while volunteers also collected signatures to force ballot initiatives on issues like same-sex marriage.
Maryland was one of three places that held primaries Tuesday, along with Wisconsin and the District. The state also had early voting last month, which some people said was a factor in Tuesday's low turnout.
Polls leading up to the primary showed Mr. Romney as a comfortable favorite to win Maryland and expand his primary lead, as many Republican voters said they think he is more likely to win a general election than Mr. Santorum or Mr. Gingrich.
"I think he's the most moderate of the candidates," said Tyler Mahy of Gaithersburg.
Other than the national race, perhaps Maryland's most interesting primary was the congressional race in the 6th District, which has been represented since 1993 by Republican Rep. Roscoe G. Bartlett but was redrawn last fall by state Democrats to give them a better chance of unseating the incumbent.
The Western Maryland district now includes much of north and western Montgomery County, giving serious hope to Democratic contenders led by state Senate Majority Leader Robert J. Garagiola and businessman John K. Delaney.
The two squared off in a fierce, sometimes negative campaign that was difficult to predict in part because of the expected low turnout.
"I've seen a lot of negative literature and that is really awful. I wish they would quit that," said JoAnn Robinson of Gaithersburg. "You want to know what a person stands for rather than what mistakes they've made."
While Mr. Garagiola ran on his Senate experience and received endorsements from many prominent state officials, Mr. Delaney — a first-time political candidate — portrayed himself as an outsider with business and job-creating experience who was ready to buck the political establishment.
Many voters said they either favored Mr. Garagiola's record or Mr. Delaney's potential to shake things up.