A year ago this week, Sports Illustrated put the Philadelphia Phillies' five starters on its cover.
The magazine compared them to superheroes, bringing to light an iniquitous reality. The Phillies, a team that had won 97 games the season before with an already scary pitching staff, now rivaled some of the greatest rotations ever assembled.
Who would want to walk into a three-game series knowing Roy Halladay, Cliff Lee and Cole Hamels would be waiting? Probably the same offenses that wanted to face Greg Maddux, John Smoltz and Tom Glavine in Atlanta in the 1990s, or that didn't cringe when they saw Tim Hudson, Barry Zito and Mark Mulder on the schedule for the Oakland Athletics in the early 2000s.
Which is to say, none of them.
In his time, Washington Nationals manager Davey Johnson has seen some great rotations. He played behind the Orioles' four 20-game winners in Jim Palmer, Mike Cuellar, Pat Dobson and Dave McNally. He managed Ron Darling, Dwight Gooden, Sid Fernandez and Bob Ojeda on the world champion 1986 Mets. He watched from the dugout last season as the Phillies' horses bludgeoned opposing offenses, sometimes including his own, en route to 103 wins and the National League East title.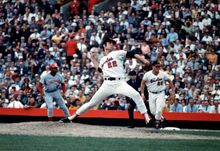 So it was with that in mind that Johnson sat in the dugout at Roger Dean Stadium and issued an opinion. What the Nationals have in the system right now — Stephen Strasburg, Gio Gonzalez, Jordan Zimmermann, Edwin Jackson, Ross Detwiler, Chien-Ming Wang and John Lannan — especially at the top, he said, is "as good of stuff of any staff I've ever had."
"I'll take my five or six guys over any staff in the league," he said. That includes, of course, Halladay, Lee and Hamels.
Maybe it's hyperbole, or just the cocksure nature with which Johnson goes about his job. But the Nationals' brief history has been littered with such incomparable rotations that it's only natural for those involved to rejoice at what they have: a rotation dripping with possibilities, if not yet comparable to its legendary predecessors.
"That's a tall order for anyone," said new Dodgers owner and former Nationals president Stan Kasten, who also helped build Atlanta's dominant rotation in the 1990s. "They clearly have that potential but, let's face it, there's still a long way to go.
"Still," Kasten added, perhaps pondering some of the team's past entrants and names such as Tony Armas, Matt Chico or Mike Bacsik. "It's fun even thinking about it."
Pitching coach Steve McCatty was lauded for the work he'd done with far-less heralded staffs. "Now it's swung the other way," he said with a chuckle. "Now they played really well or we coached [poorly]. Pressure's on a little bit."
And in essence, that's what separates these Nationals from those who jump to mind when the discussion of great rotations is raised. Results. As a group, they haven't thrown a pitch that matters yet. Asked if he thought his starters could find themselves in that discussion, Johnson relented.
"I would like to see them get ready for the season before we have this conversation," he said. "The talent is here."
They share one thing with great rotations of the past: the drive to be the best, even against teammates. For the A's, if Hudson threw a one-run complete game, Mulder would throw a complete-game shutout. If Zito struck out 10, former A's utility man and current MASN broadcaster F.P. Santangelo recalled, Hudson would strike out 11.
"They competed in everything they did," Santangelo said. "Honest to God, Zito and Mulder were single and we would go out and they would go after the same girl in a bar. … It's just kind of the way it was."