NEW YORK — To a man, the Washington Capitals knew what had to happen for them to succeed against the New York Rangers in this Stanley Cup playoff series.
That meant smarter play and production out of the core, specifically forwards Alex Ovechkin, Alexander Semin and Nicklas Backstrom. It's nice when players such as Jay Beagle, Matt Hendricks and Joel Ward chip in, but, as Brooks Laich pointed out: "Your top guys have to be your top guys."
It's hard when one of those top guys isn't on the ice. For two periods, Ovechkin was hardly a factor, relegated to the bench and limited minutes. But his power play goal with 7:27 remaining lifted the Capitals to a 3-2 victory in Game 2 at Madison Square Garden that evened the Eastern Conference semifinal series at a game apiece.
"He's our big-game guy. He's got to be scoring for us to do well. That was a great moment for him," veteran right wing Mike Knuble said. "Great timing. Timing is everything, I think, in this game and playoffs. Having guys score at the right time and your big guys scoring and feeling great going into the next game can do a lot."
All eyes are on Ovechkin anytime the Caps play. With a $9 million salary and the expectation to be one of the best players in the world, he's the subject of intense scrutiny.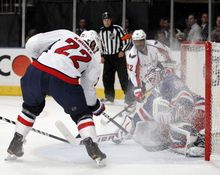 It appeared Monday morning as if the Caps might experiment to try to get Ovechkin away from Rangers shut-down defenseman Dan Girardi.
One way to keep Ovechkin away from Girardi is by planting the superstar left wing on the bench. He played just 3:33 in the first period and had just 9:14 of ice time at the second intermission. Meanwhile, Beagle saw the lion's share, playing in key situations that would have been hard to envision several months ago.
Coach Dale Hunter seemed to ignore the blatant discrepancy in ice time throughout the lineup when explaining why Ovechkin finished with a career-low 13:36 of ice time.
"Four lines and six D were all going tonight," Hunter said. "They were all going hard, so it's easy to play everybody."
Ovechkin had never played fewer than 19:32 in the playoffs under coach Bruce Boudreau. In last year's double-overtime win at New York, he was on the ice for more than 30 minutes.
But Ovechkin made the concerns about his low ice time go away with one key shot.
After Rangers center Brad Richards was whistled for holding, Ovechkin corraled the puck after the faceoff and whipped a wrist shot from the point. The puck made its way through traffic and past Rangers Henrik Lundqvist for Ovechkin's third goal of the playoffs. The captain taunted the Garden crowd in celebration, cupping his hand to his ear and showing that minutes don't matter as long as he scores.
"He scored the winning goal," Laich said. "That's all that matters."
Ovechkin said he learned a lesson from the Boston series about taking advantage of limited opportunities. He did so in the biggest way Monday.
"I feel good. You have to suck it up and use time what Dale is giving to me," he said. "First period, two periods I didn't play a lot and I have a couple opportunities I didn't use it."