LISTENING STATION: Carrie Underwood, Norah Jones
Blown Away
Arista Nashville
★★★
Carrie Underwood graced the cover of her last album, "Play On," with a daisy in her hair and casual clothes on her back. The same person makes an appearance on the "Blown Away" cover, but this time she's wearing a designer dress and gazing fiercely into the distance, looking like a cross between Wonder Woman and a runway model. It's a pretty silly photograph, to be honest, but it does drive home one crucial point: Miss Underwood is not built like other country stars.
In a genre that's become increasingly populated by girls who write their own tunes, Miss Underwood has risen to the top on the strength of her voice alone. It's a solid instrument, as flawless as her airbrushed skin on the "Blown Away" cover, and it can wring raw emotion out of the driest of songs. On her newest release, though, Miss Underwood attempts to prove herself as a powerhouse songwriter, too, co-writing more than half of the album's fourteen tracks.
On "Good Girl," she writes a melody line that caters to every last inch of her voice, paying attention to the high, show-stopping glory notes that've been her bread and butter for years. "Two Black Cadillacs," an original country-rock anthem filled with power chords and vocal acrobatics, does the same thing. Clearly, this is a musician who knows how to showcase her singing chops.
As a lyricist, though, Miss Underwood tends to limit herself to the same subjects that fill country-pop songs, meaning there's a lot of scorned women, rural hometowns and former flames lurking around these tunes. "One Way Ticket," her biggest attempt at thinking outside the box, finds her comparing life to county fair food ("Life is so good, it's sticky sweet / It's a carnival cotton candy treat") while some poor studio band kicks up a tired reggae beat in the background. Really, is this stuff worth singing about?
Whenever another songwriter takes the helm, though, "Blown Away" shows what Miss Underwood can do with material that's as good as her voice. The title track may be the catchiest thing she's ever done, not to mention the best evidence that she can sing about darker subjects — child abuse, homicide and the kind of revenge that goes far beyond the torn-up car seats in "Before He Cheats" — with as much conviction as her family-friendly love songs. She tones things down without losing her mojo on "Do You Think About Me," where her soft, understated voice matches the song's stripped-down arrangement.
Those sturdy vocals sound great on everything, of course, but Miss Underwood only hits her stride when she sings something worthy of her voice. "Blown Away" hits the mark about half of the time.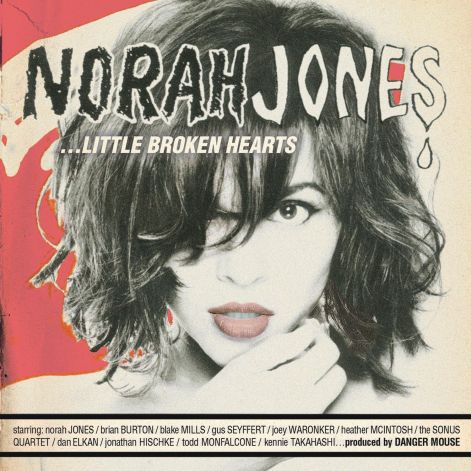 Little Broken Hearts
Norah Jones
Blue Note
★★★½
It's been a decade since Norah Jones released "Come Away With Me," a collection of mellow torch songs and jazzy folk tunes. She's branched out significantly since then, collaborating with alt-country stars such as Ryan Adams one minute and joining projects such as Rome, an indie rock supergroup with an appreciation for spaghetti western music, the next. On "Little Broken Hearts," a breakup album recorded with producer Danger Mouse, she explores even more territory.
View Entire Story